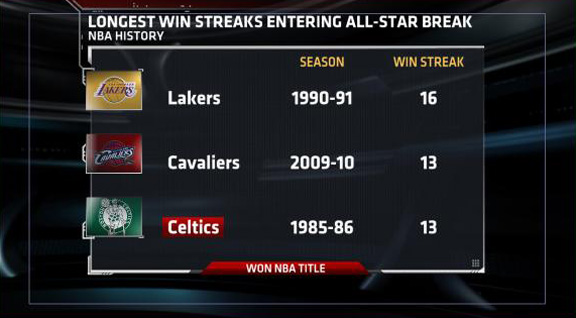 The NBA heads into the All-Star break with the Cavaliers and Lakers as the two best teams in the NBA. Last night, the Cavaliers matched the longest win streak in franchise history with their 13th straight win, which is the longest win streak in the NBA this season. The 13-game win streak is also tied for the 2nd-longest win streak heading into the All-Star Break in NBA history. Only the 1990-91 Lakers (16 games) had a longer streak. The 1985-86 Celtics also had a 13-game streak heading into the All-Star break. Good news for Cavs fans, both of those teams advanced to the NBA Finals ('86 Celtics won).
Cavaliers are now 2-0 vs Magic this season and the Magic see their 3-game road win streak snapped as they lose for just the 2nd time in their last 9 games. LeBron James led the Cavaliers with 32 points, 8 rebounds and 13 assists. He's registered 10+ Ast in 6 of his last 8 games and has averaged 10.5 APG over the last 11 games with PG Mo Williams out injured. Dwight Howard led Orlando with 19 points and 11 rebounds for his 15th straight double-double, the longest such streak in the NBA this season. From the 9:45 mark in the 4th quarter to the 1:10 mark, the Cavaliers went on a 20-10 run. LeBron James had a hand in all 20 points, scoring 11 and recording an assist on the other 9 points.
MORE: SC Highlight Of The Night | Game Recap | Daily Dime | Shaq raps Howard's Superman act | 'Shaq Vs' picked up by ABC
After the jump, more amazing stats from the NBA, plus we dive into the Big East standings and head to Daytona to get revved up for NASCAR's Super Bowl.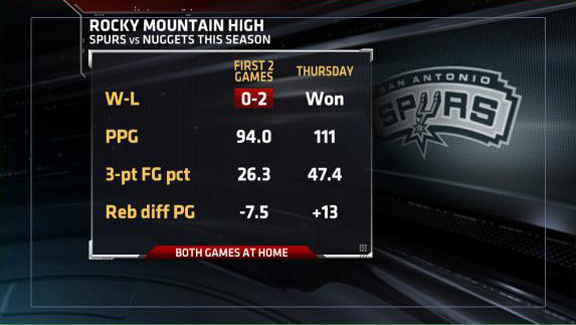 Spurs improve to 1-2 vs the Nuggets this season as they win the final NBA game before the All-Star Break. George Hill and DeJuan Blair led 7 Spurs in double-digits with 17 points apiece as the Spurs won without Tony Parker. 19-point loss is Denver's worst home loss of the season. Carmelo Anthony, Chauncey Billups and J.R. Smith shot a combined 14-47 FG (29.8%) for the Nuggets. Nene led the Nuggets with 20 points on 8-9 FG and now has 41 points on 16-18 FG in his last 2 games.
MORE: Game Recap | Parker Sits Out With Hip Injury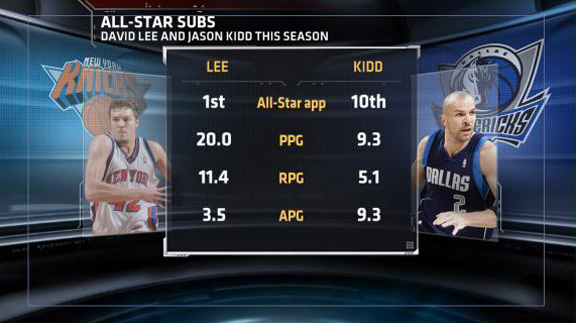 David Lee will take Allen Iverson's roster spot, while Jason Kidd will play in place of Bryant. It's Lee's first All-Star appearance, he's 1 of 13 players averaging a double-double this season. Kidd's an all-star for the 10th time, and for the first time as a Maverick since 1996.
More: Mavs' Kidd, Knicks' Lee to play | Karl To Start Dirk
------------------------------------------------------------
COLLEGE HOOPS:
------------------------------------------------------------
With the Nets franchise in complete disarray, rumors started circulating that Louisville head coach Rick Pitino would bolt back to the NBA once again. He told ESPN.com's Pat Forde, "I have no interest, period. I'm done coaching professional basketball." Rick Pitino's denial yesterday to ESPN.com's Pat Forde, in reference to a New York Daily News report that claimed associates of Pitino had reached out to Nets president Rod Thorn about the Nets' coaching gig. Would the current situation distract from the Cardinals game with St. Johns Thursday night?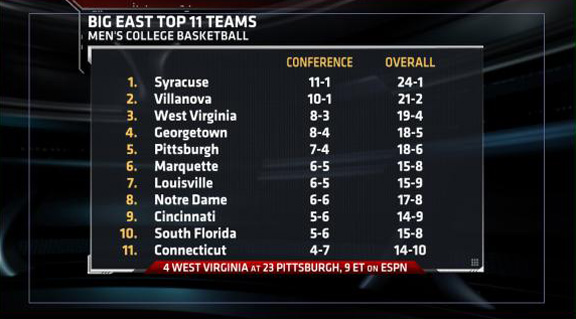 The Red Storm scored the first 12 points of the game and never trailed, winning for just the 2nd time in six meeting against Louisville in Big East play. St. John's had blown 2nd-half leads to lose in six Big East games this season but outscored the Cardinals by 9 in the second half. They snap a season-high 5-game losing streak. The Cardinals fall to 1-6 on the road this season, their only win coming at Providence. They shot a season-worst 50 percent from the free throw line.
MORE: Pitino not interested in return to NBA | Expand the NCAA tourney? Heresy! | Game Recap | Broussard on Pitino Report
------------------------------------------------------------
ON THE ICE:
------------------------------------------------------------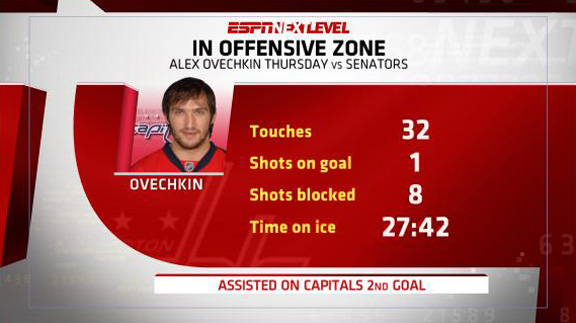 The Capitals see their streak of 15 straight games with a point come to an end. Washington allows 6 goals in back-to-back games for the first time since October 7-8, 2005, which was Alex Ovechkin's 2nd and 3rd career NHL games. Jason Spezza remains red-hot with a goal and 2 assists for the Senators, who are 13-1-0 in their last 14 games. Spezza has a goal in 10 of his last 11 games. Alexander Semin records a hat trick for the Capitals, the third straight game in which a Capitals player scored 3 goals (Ovechkin on Sunday and Brooks Laich on Wednesday). Ovechkin extends his point streak to nine straight with an assist. The Caps are winless in 2 straight for the first time since a 3-game losing streak from Dec. 28-Jan. 2. One interesting note, for the 3rd consecutive game, the Capitals had a player score a hat trick as Alexander Semin scored three times. That is after Alex Ovechkin had a hat trick Sunday and Brooks Laich did it on Wednesday.
MORE: Highlight | Grimmette 'elder' not 'elderly' statesman
------------------------------------------------------------
NASCAR:
------------------------------------------------------------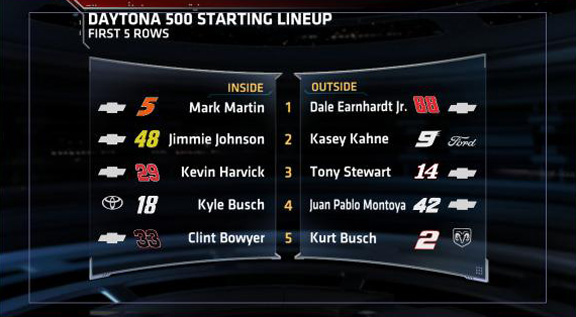 2006 Daytona 500 winner and 4-time NASCAR Sprint Cup champ Jimmie Johnson won the first of two qualifying races at Daytona by .005 of a second over 2007 Daytona 500 winner Kevin Harvick. Johnson locks up a spot in Row 2 for Sunday's Daytona 500. This is Johnson's first Gatorade Duel win and third career win during Speedweeks. Michael McDowell and Max Papis both raced their way into Sunday's Daytona 500 field with finishes of 14th and 15th. McDowell qualifies for 500 after being 50th quickest out of 54 qualifiers on Saturday. Papis qualifies for the 500 for the first time in his career. Former Camping World Truck Series champ Todd Bodine narrowly misses making field as he finished 17th (3rd among the non-guaranteed drivers). Michael Waltrip crashed on Lap 53 but remains alive for a Daytona 500 spot. To make this year's race, he'll need either Bobby Labonte or Scott Speed to race their way into one of two transfer spots in Race 2.
Kasey Kahne wins the 2nd Gatorade Duel race at Daytona, edging out Tony Stewart at the line. It's Kahne's 1st Duel win; he's finished 4th, 7th and 1st in his last 3 Duel races. Mike Bliss and Scott Speed claim the 2 transfer spots, finishing 13th and 14th respectively. Michael Waltrip, despite wrecking in the 1st Gatorade Duel race, is in the Daytona 500 field based on his qualifying speed. He'll start in the last position in the field. Notable drivers who did not make the field include 1990 Daytona 500 winner Derrike Cope as well as Mike Wallace and Casey Mears.
MORE: Pinch-me moments plentiful at Daytona | Two Photo Finishes In The Gatorade Duels
Note: The Elias Sports Bureau and ESPN Stats and Information Group contributed to this report.