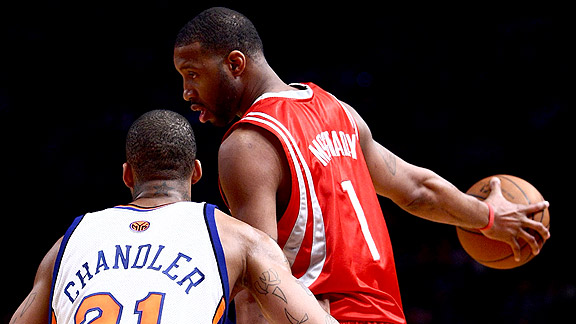 KNICKS STILL CHASING MCGRADY
With the NBA's trade deadline looming on Thursday, published reports suggest that the Knicks, Rockets, and the agent for Tracy McGrady held substantive talks regarding a potential trade yesterday. McGrady's contract expires after the season, bringing $23 million off of the books. But Houston and New York may need to bring in a third team to make a deal happen.
More of what's happening At This Hour, including what LeBron had to say to Amar'e Stoudemire about the trade that could unite them and why Floyd Mayweather, Jr. thinks he's like Martin Luther King, Jr. and Malcolm X, after the jump.
LEBRON ON AMAR'E
After winning last night's All-Star Game, LeBron James was asked what he said to Amar'e Stoudemire amid rumors of a big trade between the Cavs and Suns. According to the Arizona Republic, the two didn't talk about it at all this week. "I think Amar'e has been hearing the trade rumors all season," said LeBron. " That's the last thing I wanted to bring up with him about being traded or having -- being a teammate as he is. He's one of the premier athletes that we have in our game, but you know, we'll see if it happens."
MAYWEATHER IS PROUD AND LOUD
Floyd Mayweather, Jr. says he's proud of the stand he took over random blood and urine testing, even if it prevented his megafight with Manny Pacquiao. He tells the Grand Rapids Press, "It's me taking a stand for something that means something...It's sort of the same stance Martin Luther King and Malcolm X made, so we could have freedoms, so everybody could tell the world that we're equal. The only thing I'm saying is that we are equal. So if you're not on nothing and I'm not on nothing, then let's go take the test. That's all I'm saying."