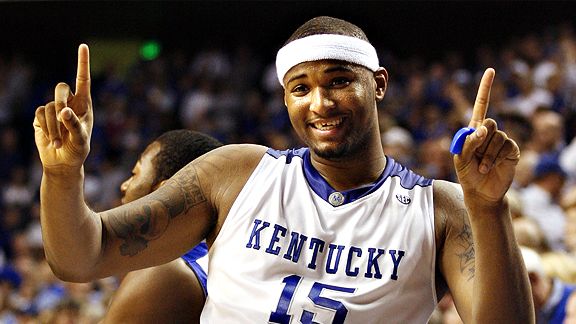 YOU MESS WITH THE BULL, YOU GET THE HORNS
The Mess: Fans of Mississippi State decided to bombard a cell phone with pregame taunts.
The Bull: DeMarcus Cousins, double-double machine for No. 2 Kentucky and owner of the cell phone. "Some were racial and others, girls were like, 'Let's make out," he said. "I don't know what to expect in Starkville."
The Horns: Starkville saw their Bulldogs blow a seven-point lead with 2:45 to go in regulation, and go on lose in overtime. Cousins threw in 19 points and grabbed 14 boards and said he didn't change his number because he wanted to see what they had to say after the game. But before he could even check, they started bombarding the court with bottles.
More from The Rundown, including a look ahead to pitchers and catchers reporting and Lindsey Vonn skiing, after the jump.
ORIOLES PITCHER HURT PITCHING ORIOLES BASEBALL
Four of the greatest words are, "Pitchers and catchers report." (Certainly greater than "Snowmageddon." And "Snowpocalypse.") Around a dozen teams roll out the (figurative) red carpet today ahead of workouts tomorrow. That includes the Orioles, but not their righty Brad Bergesen, who won't workout for another week to ten days after straining his shoulder back in December. While shooting a commercial for Orioles baseball. Club president Andy MacPhail says the Orioles will begin to monitor the filming of commercials in the future. (And don't you just get the feeling the Mets will begin to monitor Bergesen?)
RUB SOME CHEESE ON IT AND GET BACK OUT THERE
Dry weather is expected today at Whistler, which makes today the day that Lindsey Vonn gets her Olympics on. Despite the application of Austrian cheese to her soothe her shin, it's still bruised and sore (and probably a delicious complement to a fine wine) but it's not going to hold her back this afternoon in the downhill (2:00 pm ET). She'll start 16th.
Nothing complements cheese and wine like The Rundown. At least long as cheese and wine is your idea of breakfast. Because that's when it hits your inbox each and every day. But only if you sign up for it first here.