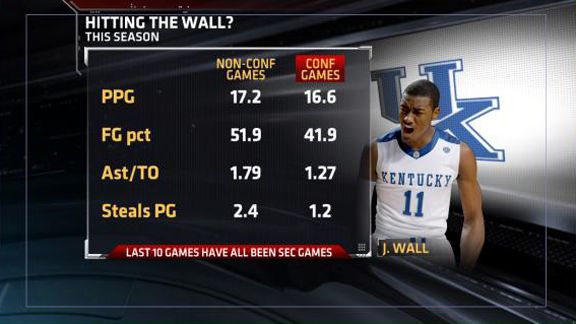 (2) Kentucky 81, Mississippi State 75 (OT)
WILDCATS SURVIVE OT ROAD SCARE: The Bulldogs took it to overtime but couldn't overcome the Wildcats. John Wall (18 points, 10 rebounds, 8 assists) recorded his 4th double-double of the season, DeMarcus Cousins (19 points, 14 rebounds) had his 8th double-double in his last 9 games and Patrick Patterson (19 points, 10 rebounds) added his 7th double-double as the Kentucky won for the 3rd time in their last 4 meetings vs the Bulldogs. The Wildcats overcame a poor shooting night, going just 4-for-23 (17.4%) from beyond the arc, and improved to 4-4 in their last 8 conference road games vs unranked opponents. Dee Bost (22 points) led the Bulldogs, who have now lost 10 straight vs top-5 ranked teams.
MORE: SC Highlight of the Night | Forde: Mississippi State fans cheapen team's effort | SEC Standings
After the jump, Joe Lunardi's last 4 in/out of the field of 65, Roy Williams and the North Carolina Blues, why Kevin Durant needs to change his jersey number to 25, why the Raiders made Sea-Bass the richest kicker in NFL history, and the 2010 Winter Olympics Medal Count.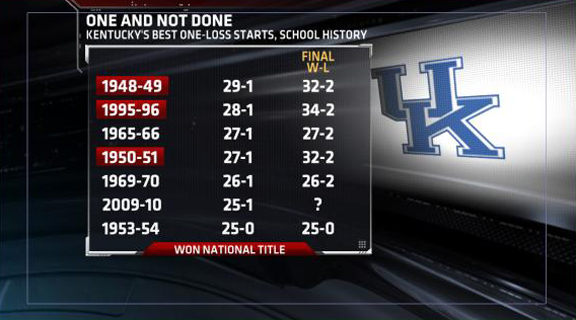 OFF AND RUNNING:Kentucky moved to 25-and-1 with Tuesday's win. It's just the seventh time in school history the Wildcats have started with one or fewer losses and at least 25 victories. In three of those previous instances, they went on to win the national title with at least 32 wins. The Wildcats put their record on the line on Saturday at Vanderbilt. They beat the Commodores in their first meeting at Rupp Areana 85-72.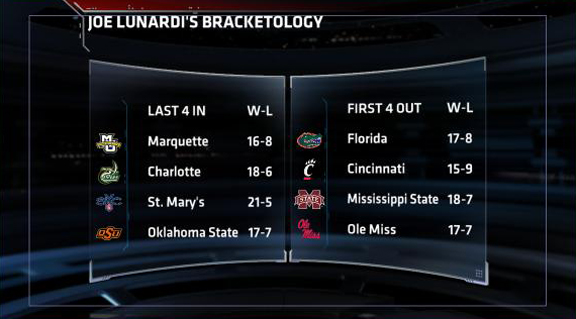 BUBBLE WATCH: Mississippi State's loss to Kentucky last night has the Bulldogs sitting on the tournament bubble. With 5 games remaining, the Bulldogs must have a solid run in the SEC tournament to reach the field of 65. Florida has 6 games left and the Gators have a great chance to improve their tourney resume if they can beat Tennessee on February 23 and Kentucky on March 7. Ole Miss has 4 of its 6 remaining games at home.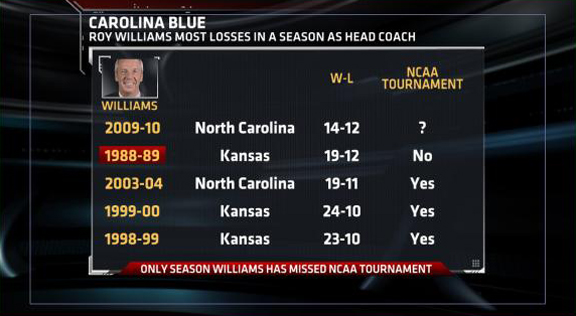 Georgia Tech 68, North Carolina 51
CAROLINA BLUES: Speaking of bubble teams, the defending champs are in jeopardy of missing the NCAA Tournament. The Tar Heels lost for the 5th time in their last 6 games, with 4 of those losses by double-digits. Georgia Tech snaps its 2-game losing streak and has now won 8 straight at home. The Yellow Jackets swept the regular-season series with the Tar Heels for the 1st time since 1995-96 when Stephon Marbury was a freshman PG. UNC's loss gives them 12, which ties Roy Williams' record for most in a season. The only other time he lost 12 games was during the 1988-89 season with Kansas. That was his first season as the Jayhawks head coach and also the ONLY time Williams has missed the NCAA Tournament.
MORE: ACC Standings | UNC struggles in Ga. Tech loss | Favors, Georgia Tech beat North Carolina 68-51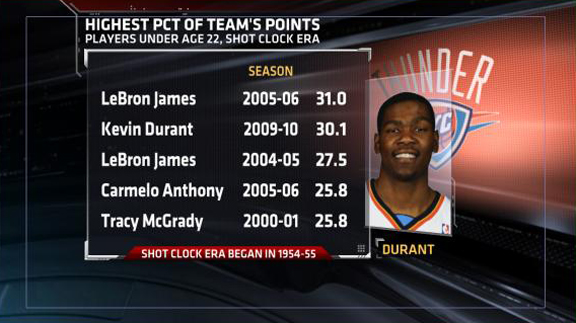 DURANTULA: After scoring 16 Pts in the 1st quarter the Thunder put up 40 in the 2nd en route to the 13-Pt win. Kevin Durant (25 Pts, 14 Reb) recorded his 26th straight game of 25+ Pts (longest single-season streak since Allen Iverson had 27 straight in 2000-01). Durant's 14 rebounds were 1 short of his career-high (Jan. 23, 2009 at LAC). Russell Westbrook, Jeff Green and James Harden all had 17 Pts. The Thunder have won 7 straight games (longest win streak of the season). Caron Butler made his Mavs debut with 13 Pts, 6 Reb in 31 minutes. The Mavericks shot 32.3 percent from the floor (season-low).
Most Consecutive Games With 25+ Points In Single Season, Since 1986-87 Season
Michael Jordan - 40 - 1986-87
Allen Iverson - 27 - 2000-01
Kevin Durant - 26*- 2009-10
Michael Jordan - 24 - 1987-88
*Active streak (longest by player before 22nd birthday)
MORE: Box Score | Game Recap | Video: Mavs fall short despite new look | ESPNDallas.com SportsCenter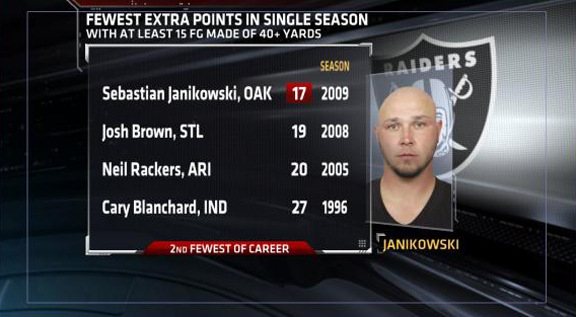 RAIDERS MAKE SEA-BASS RICHEST KICKER IN NFL HISTORY: In Oakland, the Raiders haven't scored many touchdowns recently, so they've decided to invest more into their kicking game. They gave Sebastian Janikowski the biggest contract ever for an NFL kicker - $16 million dollars over the next 4 years, including 9 million guaranteed.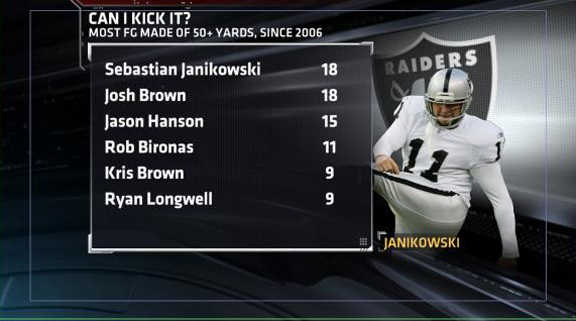 MONEY MAN: Since 2006, Sebastian Janikowski has made 18 field goals from 50 yards or further. He is tied for the most in the NFL over that span with Josh Brown. Janikowski had six 50-yarders last season. His career long is 61 yards, 2 yards shy of the NFL record.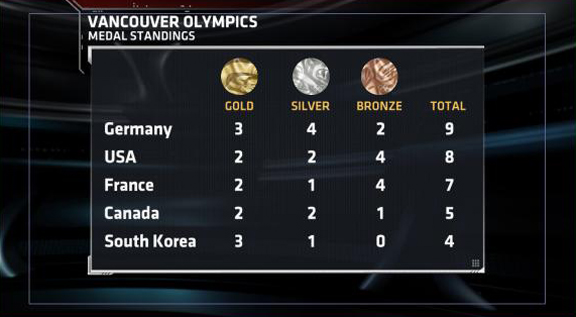 OLYMPIC MEDAL COUNT: Here's the updated Medal count through 4 days of competition. Germany overtakes the U.S. for the overall lead with 9 total medals. The United States failed to win a medal on Tuesday. Germany, South Korea and Switzerland are leading the way with 3 gold medals each.
MORE: Complete Medal Tracker | Video: Day 5 Recap | Day 6: Feb 17 Schedule
Note: The Elias Sports Bureau and ESPN Stats and Information group contributed to this report.