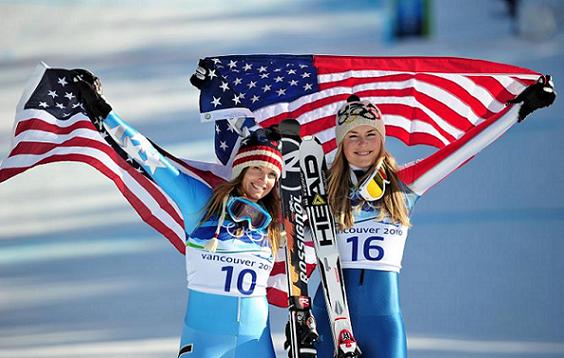 Clive Mason/Getty Images
Julia Mancuso and Lindsey Vonn Celebrate Their Downhill Medals
The Vancouver Olympics leads the way for what happened on Wednesday ... But with the NBA trading deadline in sight, more teams are making moves.
Vonn, Mancuso Go 1-2 in Downhill
Lindsey Vonn showed no signs of discomfort as she won the Olympic downhill by more than half a second. American teammate Julia Mancuso surprised the field ... winning the silver medal.
USA's Shani Davis Wins Gold In Men's 1000 Speedskating; Chad Hedrick Takes The Bronze
The Americans broke their medal drought at the Richmond Olympic Oval, claiming not just one, but two spots on the podium.
Shaun White Defended His Olympic Title In Men's Halfpipe
Shaun White capped his gold-medal night on the halfpipe with his signature trick Wednesday ... the Double McTwist 1260.
Stephen Colbert, Speed Skating's #1 Fan, Cheers On U.S.
Stephen Colbert, the man who put speed skating on the cover of Sports Illustrated, had a front-row seat at the Richmond Olympic Oval to take in the men's 1000 meter race Wednesday.
Tiger To Speak Friday About Behavior, Future
Tiger Woods will end nearly three months of silence Friday when he speaks to the media for the first time since he admitted his infidelity.
Cleveland, Washington and the Los Angeles Clippers have an agreed to a three-team deal that will land Antawn Jamison with the Cavaliers as LeBron James' new sidekick instead of Amar'e Stoudemire, according to NBA front-office sources.
Ravens Sign Stallworth To 1-Year Deal
Wide receiver Donte' Stallworth has signed a one-year contract with the Baltimore Ravens, hoping to resurrect a career that was halted by a manslaughter conviction.
NY Jets QB Mark Sanchez Tweets That Surgery Went Well
Jets quarterback Mark Sanchez wrote on his Twitter page Wednesday afternoon that surgery on his left knee was a success.