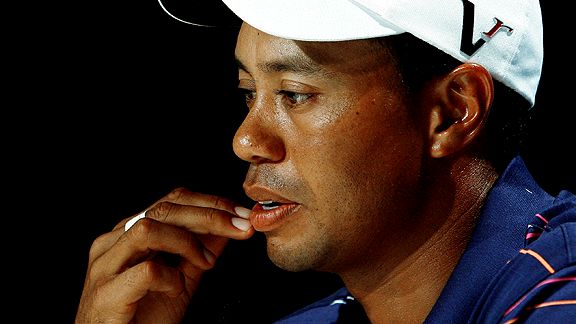 TIGER'S TALE
Later this morning (11:00 am ET, ESPN), Tiger Woods will speak in public for the first time since shattering his SUV and his world back around Thanksgiving. He'll appear to direct a one-sided conversation at a small group of friends, colleagues, associates, and a single TV camera, which will in turn direct it to the world. And after that, the AP reports he'll return to therapy. Which might explain the timing of the announcement. As for what the announcement might explain, stay tuned.
More from The Rundown, including both NBA games on the schedule last night decided by a total of three points, after the jump.
HOUSE OF PAIN
Coming into last night, the last two games between the Celtics and the Lakers were decided by a single point. So what was different last night? Nothing, except that Kobe's ankle was too painful to turn the one-point deficit into the one-point win like he did last month in Boston. But was it more painful than watching both teams go scoreless over the last 2:24 of the game? (Ouch.) Still, it's the Celtics' first win over the Lakers since Game 6 of the 2008 NBA Finals.
LE + LO + OT = LELOOT
Then there's what happened between the Nuggets and Cavs, where Carmelo Anthony dropped 40 on Cleveland. And LeBron dropped 43 of his own right back on Denver. It's the first time that both of those guys each scored 40 on the same night in the regular season. And they've played on the same night in the regular season 256 times. And while LeBron outscored Melo by three, the Nuggets outscore the Cavs by two in overtime, ending Cleveland's bid for a franchise-record 14th straight win.
Don't end our bid to get you The Rundown each morning. Make it happen by signing up for it here.