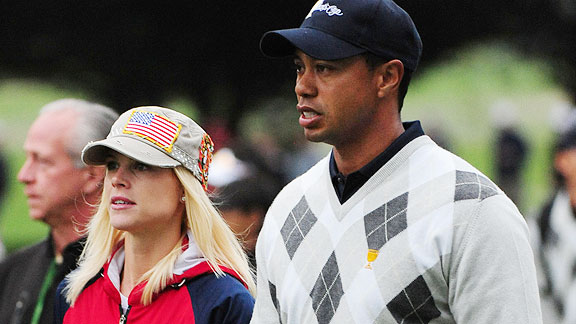 FAXON: ELIN WILL NOT APPEAR WITH TIGER
According to PGA tour veteran Brad Faxon, who appeared this morning on the Dennis & Callahan Show on WEEI, Tiger's wife Elin will not be present for his statement this morning, but his former teammate at Stanford, Notah Begay will be in attendance to support Tiger.
More of what's happening At This Hour, including how the Wizards will rebuild for the future and Michael Phelps talking about his future - at the Winter Olympics, after the jump.
GRUNFELD: ARENAS WILL RETURN TO WIZARDS
After trading away Antawn Jamison, Caron Butler, and Brendan Haywood, the Wizards will begin their rebuilding process around the banished Gilbert Arenas. Team President Ernie Grunfeld told the Washington Post, "Gilbert is still one of the top players in this league. He's under contract and he's going to be with us. He's part of this organization. If he wants to play, this is the place where he's going to play."
PHELPS VISITS WINTER GAMES
The star of the last Summer Games paid a visit to Vancouver yesterday. He watched the US defeat Norway in hockey, and spoke about his plans for the 2012 London Olympics. He was adamant that he would not swim in eight events, and that those Games would be his last competition in the Olympics.