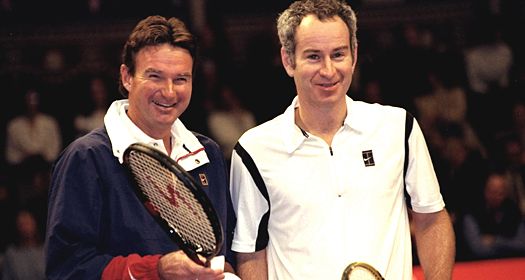 Tom Shaw /Getty Images
Sure, these guys are all smiles now, but that's because you're not an umpire.
February 21, 1986: Jimmy Connors was in the midst of a semifinal match against Ivan Lendl in the Lipton International Players Championship in Boca Raton, Florida when he took his criticism of the umpire just a little bit too far.
In the sixth game of the fifth set, Connors loudly protested what he thought was a bad line call. After a series of warnings, the umpire penalized Connors a point. But this just made things worse for Connors - as did the game penalty that followed after further protest. Past the point of no return, Connors was ultimately defaulted for refusing to continue play. Meanwhile, an unfazed Lendl would continue on to win the tournament.
Following Connors' outburst, the Men's International Professional Tennis Council conducted an investigation and concluded that his conduct constituted "aggravated behavior." The Council then suspended Connors for 10 weeks and fined him $20,000. Connors would later miss the French Open, becoming the first player to be suspended during a Grand Slam tournament.