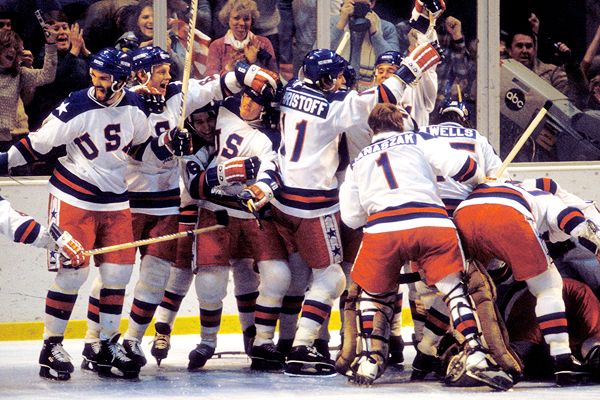 The U.S. Men's hockey team did believe in miracles. And pig piles.
February 22, 1980: "Do you believe in miracles" is a common phrase in American sports lore now, but 30 years ago today it was uttered for the very first time in response to the underdog U.S. men's hockey team beating the bigger, better and more experienced (sound familiar, Canads?) Soviet Union team, 4-3, at 1980 Lake Placid Olympics.
The Soviets, who had not had a loss in the Olympics since 1968, were considered to be the best team in the world. And the Americans, coached by Herb Brooks, were a team full of amateurs and college kids. The U.S. team had lost to the Soviets, 10-3, in an exhibition prior to the games and trailed early in Lake Placid. They ended the first period tied, 2-2, but went down a goal after a Soviet goal in the second period. In the third, American Mark Johnson scored a goal to tie it and, with 10 minutes left, captain Mike Eruzione put the United States up, 4-3. As goalie Jim Craig held the lead and time wound down, sportscaster Al Michaels made the famous call: "Eleven seconds, you've got ten seconds, the countdown going on right now! Morrow, up to Silk. Five seconds left in the game. Do you believe in miracles? YES!"
The win did not give the Americans the gold medal, they earned that in their next game, a 4-2 win over Finland. It did make them instant celebrities. Americans watching on (tape delayed) TV erupted into the national anthem and started hugging strangers in the streets. Eruzione and his teammates got bags of fan mail. The photo of the upset was on the March 3, 1980 Sports Illustrated - the first cover in the history of the magazine without any caption or headline. And in 2008, the International Ice Hockey Federation named "Miracle on Ice" as the No. 1 international hockey story of the century. For more on "The Miracle" check out ESPN Classic's take.