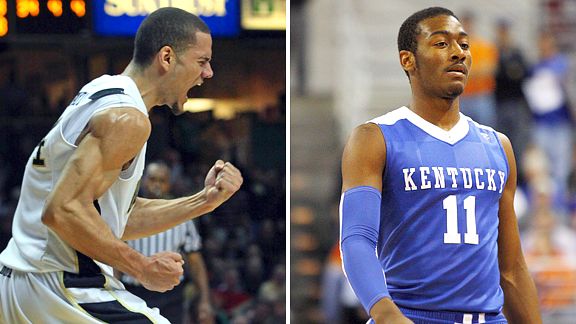 AP Photo/US Presswire
(2)Kentucky Wildcats (25-1, 10-1 SEC) vs (19)Vanderbilt Commodores (20-5, 9-2 SEC)
6:00 PM ET, February 20, 2010 -- Memorial Gym, Nashville, TN
2nd-ranked Kentucky visits 19th-ranked Vanderbilt at 6 ET on ESPN. Vanderbilt has won 4 straight home games vs Kentucky, matching the longest home win streak the Commodores have ever had vs the Wildcats. Kentucky freshman John Wall is averaging 17.0 PPG (4th in SEC) and 6.5 APG (1st in SEC). He's also 4th in the nation in scoring among freshmen and 1st in the nation among freshmen in assists per game. Since scoring a season-low 6 points at LSU, Wall has averaged 21.3 PPG over his last 3 games. Vanderbilt's A.J. Ogilvy is coming off a season-high 27 points Thursday at Ole Miss. Ogilvy averages 15.5 PPG and 7.3 RPG during his career vs Kentucky.
Vanderbilt at Home Under Kevin Stallings, Against Top Five Teams
2009-10 2 Kentucky-------?
2007-08 1 Tennessee----Won
2006-07 1 Florida---------Won
2003-04 5 Kentucky-----Won
2002-03 4 Alabama------Won
2001-02 3 Florida---------Lost
1999-00 5 Tennessee----Won
Game Preview: Kentucky vs Vanderbilt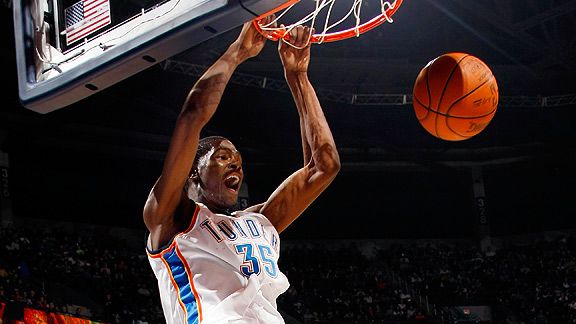 Layne Murdoch/NBAE/Getty Images
Oklahoma City Thunder (31-21, 15-11 away) vs New York Knicks (19-34, 12-17 home)
7:30 PM ET, February 20, 2010 -- Madison Square Garden, New York, NY
The Thunder have won 7 straight games overall, their longest winning streak since a 9-game streak in 2004-05 season (last time franchise made playoffs). OK City F/G Kevin Durant has scored at least 25 points in 26 straight games coming into tonight's contest. If he reaches the number against the Knicks, he would tie Allen Iverson for the 2nd longest such streak in NBA history (Michael Jordan had 40 straight games).The newest Knick, Tracy McGrady, is expected to start in his New York debut. The Knicks completed the McGrady trade at the deadline in an effort to cut even more money from their 2010 salary commitments. This puts the Knicks further under the projected 2010 salary cap than any other team in the league.
Teams With Fewest Salary Obligations For 2010-11
Knicks------$18.6M
Nets--------$26.6M
Heat--------$30.7M
Bulls--------$31.9M
Clippers----$33.5M
Kings-------$33.9M
Wolves-----$35.2M
Projected 2010-11 Salary Cap: $50.4M-$53.6M
Game Preview: NYK vs OKC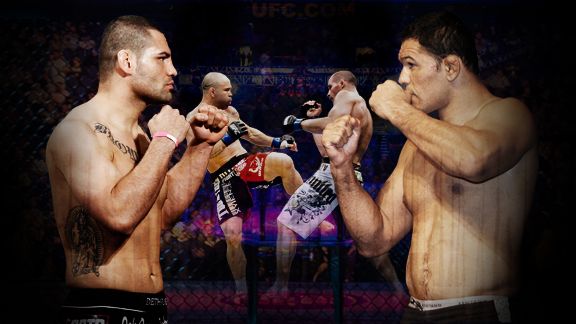 ESPN.com Illustration
Antonio Rodrigo Nogueira vs Cain Velasquez
UFC 110 -- Acer Arena in Sydney, Australia
A heavyweight title shot is on the line between unbeaten Cain Velasquez (7-0-0) and former UFC and PRIDE champion Antonio Rodrigo Nogueira (32-5-1). Nogueira, 33, is the only fighter to win the heavyweight title in the UFC and PRIDE, comes off a unanimous decision victory vs UFC hall-of-famer Randy Couture at UFC 102 in August. In 39 professional MMA bouts Nogueira has never been submitted and has only been knocked out once. He has won 4 of his last 5 fights overall. Velasquez, 27, is 7-0 in his MMA career with 6 of those wins coming by TKO. He enters off a 58-second TKO over Ben Rothwell at UFC 104 in October. Velasquez was a 2-time All-American wrestler at Arizona State, a 2-time Pac-10 champion and a junior college national champion for Iowa Central Community College.
Other fights on the main card include Keith Jardine vs. Ryan Bader Joe Stevenson vs. George Sotiropoulos, and Wanderlei Silva vs. Michael Bisping
UFC 110 Preview: Nogueira vs Velasquez
..............................................................................................................................................
Note: The Elias Sports Bureau and ESPN Stats and Information group contributed to this report.