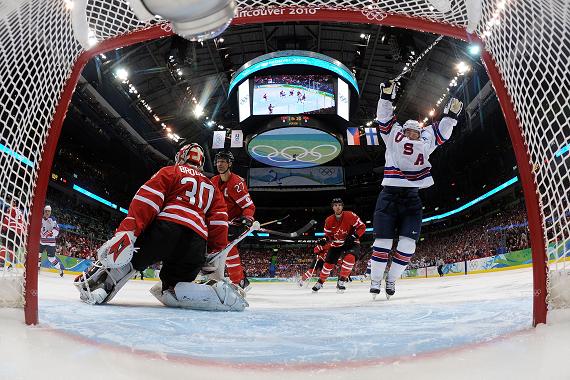 Bruce Bennett/Getty Images
Team USA celebrates after Brian Rafalski scored past Martin Brodeur of Canada
The United States pulled off its biggest Olympic hockey upset since the Miracle on Ice, stunning Canada 5-3 Sunday night to advance to the quarterfinals of the Olympic hockey tournament.
Bode Earns Super-Combined Gold
Bode Miller finally fulfilled his expectations and won an Olympic gold medal. After the downhill portion of the super-combined, Miller was in seventh place ... But in the slalom race, Miller skied one of the fastest legs for a two-run combined time of 2 minutes, 44.92 seconds.
Howard, Magic Outlast Shaq, Cavs
Dwight Howard had 22 points and 16 rebounds in a battle with Shaquille O'Neal and the Orlando Magic beat Cleveland 101-95. The Cavaliers have now lost three games in a row ... for the first time in two years.
Ashton Gibbs Scores 21 To Lead Host Pittsburgh Past #3 Villanova
The first meeting between the two teams since Villanova's dramatic NCAA tournament win last year turned out to be another typical, physical Big East matchup.
After the jump -- stories on Jimmie Johnson's win, Tim Finchem's "screw-up," Roger Federer's lung infection and more ...
Jimmie Johnson Rebounds With First Cup Win Of 2010
After winning his fourth consecutive Sprint Cup championship last season, Johnson started this season by finishing 35th at the Daytona 500. He turned things around Sunday at the Auto Club 500 in Fontana, California.
Finchem Says He Should Have Briefed Players On Tiger
PGA Tour commissioner Tim Finchem is taking responsibility for not telling players ahead of time why Tiger Woods was making his first public appearance during the Match Play Championship.
Lung Infection Shelves #1 Federer
Roger Federer withdrew on Sunday from the Dubai Championships because of a lung infection.
Rejuvenated Jagr Contemplates NHL
Jaromir Jagr is back in Vancouver, playing for the Czech Republic and contemplating a return to the National Hockey League. His two-year deal with Avangard Omsk of Russia's Kontinental League expires after this season.