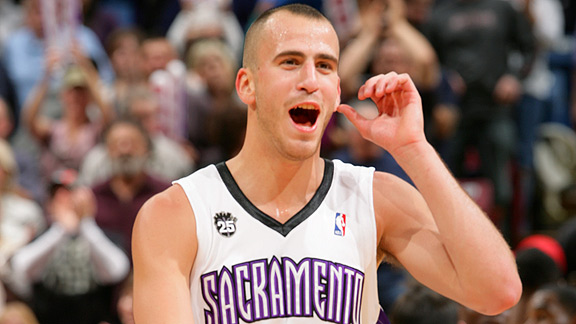 Rocky Widner/NBAE/Getty Images
Despite what you hear on the subway, Spanish Chocolate is not a new restaurant in New York.
The New York Knicks made the most of the NBA trade deadline last week, sending Nate Robinson to Boston in one move and acquiring Tracy McGrady from Houston in another. TrueHoop did a great take on ten things to know about Tracy McGrady in New York and then followed it up with a recap of T-Mac's first home game at Madison Square Garden (an overtime loss on Saturday night to Kevin Durant and the Thunder).
But, of course, McGrady isn't the only new face in the Knicks' locker room. New York Magazine introduced its readers to the four other new citizens of the Big Apple - J.R. Giddens, Eddie House, Sergio Rodriguez, and Bill Walker - with a warning that their time in the blue and orange jerseys may only be temporary.
One of the new players, though, is unlike the rest. Sergio Rodriguez has actual potential to stay and contribute for the Knicks. Rodriguez arrives in New York from Spain's Canary Islands via Portland and Sacramento. The flashy point guard, sporting the amazing moniker of "Spanish Chocolate," is expected to get a full audition from the Knicks for the remainder of the season.
If things go well for Chocolate Español and he returns to New York next year, he may find himself with a substantial increase in assists while sharing minutes with LeBron, D-Wade, and/or Chris Bosh. If Rodriguez's audition with the Knicks turns out to be more William Hung than Kelly Clarkson, well, at least he'll still find himself on all future lists of the NBA's greatest nicknames - "Spanish Chocolate" will fit nicely between a lower ranked Jason "White Chocolate" Williams and a nearly unbeatable Darryl "Chocolate Thunder" Dawkins.