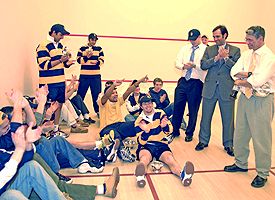 Trinity Athletics
If squash players wear rugby shirts, is it also true that rugby players wear squash shirts?
The longest streak in college athletics is owned by a team in Connecticut, but Geno Auriemma has nothing to do with it. Sorry, Lady Huskies. You and your 70 consecutive wins have nothing on Trinity College in Hartford, Conn.
With a 6-3 win over Yale University in the finals of the College Squash Association National Team Championships yesterday, the Trinity Bantams extended their winning streak to 224 matches, the longest in intercollegiate athletics. Meaning Trinity has not lost since 1998 and has collected 12 straight national titles along the way. Not a bad job by a little liberal arts school in a sport that had always been dominated by the Ivys.
With every win, it seems more and more obvious that no real team is ever going to beat Trinity anytime soon. So we're left to construct a fictional team that could one day overtake the Bantams.
We have to start, of course, with those lovable Crane brothers, Frasier and Niles, from the 1990s sitcom "Frasier." They're rarely seen playing squash in the series (in fact, are they EVER seen playing squash?), but they talk about it an awful lot. And they sure do rock those squash outfits. Bonus benefit: If anyone starts suffering from a lack of confidence, we have two psychiatrists on the team to fix it.
While we're adding fictional characters, why not throw in those money-loving squash players Gordon Gekko and Bud Fox from "Wall Street." If they turn out to not be as skilled as we had thought, at the very least they could finance the team and pitch in for uniforms and court fees and stuff. Well, for a while, at least.
But let's get right down to it. We need a bonafide athlete on the team. So we're going with Andrew Shue. Now before you say, "Whaaaaa? You mean Billy Campbell of "Melrose Place? Why would he make a good squash player?" remember — Shue is super-athletic. He was a high school soccer standout and after college he played for the Bulawayo Highlanders (one the most successful teams in the Zimbabwe Premier Soccer League). He even played for the LA Galaxy while filming "Melrose Place." Now, you might ask what about this makes us think he'd be good on the squash court? Well, he just looks like a squash player, doesn't he?