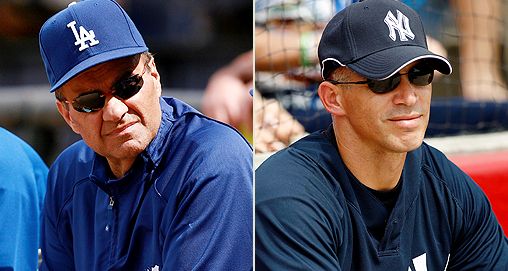 Photo: Getty Images
Men in Black & Blue starring Joe Torre and Joe Girardi starts Friday, June 25th!
Stoked to attend the Yankees versus Dodgers series this summer? Well, you better clear 13 other days on your calendar. In order to purchase tickets to one of MLB's most heated rivalries, the Dodgers request you buy tickets to at least 13 other games this season. The series against the Bronx Bombers is scheduled for June 25-27, but all tickets are reserved for fans purchasing ticket packages of 14, 21 or 28 games. That being said, the Dodgers have dropped the price of tickets in the All-You-Can-Eat Pavilion section from $35 to $30 for advance tickets purchasers.
Los Angeles anticipates selling out all three Yankees games via ticket packages. If tickets remain available, they'll be sold individually at a later date. This may be a ploy to get fans to the park for Pirates and Nats, but you do get a bobblehead for buying the 14-game plan. Unfortunately, they will not be giving away the highly-coveted Exorcist bobblehead.
As we're sure you've guessed, the Dodgers are not the only team running promotions to fill the seats. And with that in mind, it's time to play a game of "real" or "not real" promotions. We explain a team's promotion and you tell us if it's real or not real. Answers are at the bottom of the page.
1. Harley-Davidson Deck Tickets: Rev up your Harley because for $59 per person, the Milwaukee Brewers are offering tickets to the Harley-Davidson Deck perched above the Brewers bullpen in left field for groups of 42 people. The group gains access to a special Harley-Davidson Parking Lot (motorcycles only) as well as a pregame buffet that includes kosher hot dogs as well as grilled bratwurst with sauerkraut.
2. Stephen Strasburg Stupendous Surprise Raffle: The Nationals have not yet decided when they will call up The Strass, their coveted No. 1 overall pick, but that hasn't stopped them from marketing him every chance they get. In this instance, whenever you purchase a Nats ticket online, your name will be entered into a raffle based on your inputted information. The winner of the drawing will get to go paddle-boating with Stephen Strasburg on the Potomac River in D.C.
3. Lunch Break Pack: Grab your co-workers, clients and friends and head to an Astros game during your lunch break. For $40, the Astros are offering a 9-Inning Lunch Break Pack that includes a $20 ticket and $20 worth of food vouchers for a day game at Minute Maid Park.
4. Pirates Booty: Are you a fan of Pirates Booty? If so, you'll love the new Pirates promotion. For $39, fans receive a bleacher seat, one redeemable ticket for a 6 oz. bag of Pirates Booty, one eye patch and a plastic hook that you can use to grapple the inevitable opponents' home runs hit in your general direction.
5. All Aboard the Felix Train: On June 4th, the Mariners are offering a Felix Hernandez High-Octane Gas Company train car for the first 20,000 fans in attendance. Previous promotions have included a 2003 Boonie Box Car in honor of Bret Boone and a 2008 J.J. Putz Flamethrower Express.
Answers:
1. Real - Go Harley or Go Home
2. Fake For Now, But Will Most Likely Be Real By May
3. Real - 9-Inning Lunch Break
4. Fake, But Barely
5. Very Real - Seattle Mariners Promotions