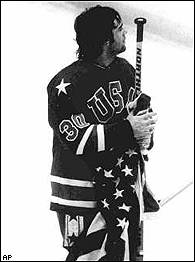 Jim Craig holds the flag after the game while looking for his father in the stands.
February 24, 1980: The U.S. men's hockey team was still basking in the afterglow of their shocking Winter Games win over the Soviet powerhouse from two days ago. Winger Rob McClanahan didn't sleep the night after the victory. "I won't sleep again tonight," he said. "Because if I sleep, there'll always be the chance that this was a dream." However, even though they'd won the "Miracle on Ice" match, there was still a championship medal to play for against Finland. While the Fins didn't pack nearly as much political baggage as the U.S.S.R. during the Cold War era, they were still an obstacle to the "real" storybook ending of Olympic gold.
The Nordic players weren't slouches in the hockey category either, building a 2-1 lead going into the third period. But then the Americans built momentum as goals from Phil Verchota, McClanahan and Mark Johnson (shorthanded, natch) gave Team USA a 4-2 victory and the gold medal.
After the final horn, Jim Craig draped himself in the Star and Stripes, then skated around the ice hoping for a glimpse of his Dad, a final feel-good moment for one of the country's all-time feel-good stories. In the locker room, the team received their second call from President Jimmy Carter in two days, congratulating them on the victory.
"This is a great win for the American people." Coach Herb Brooks told the President. "It proves our way of life is the right way." Historians and The Rest of the World may disagree with Brooks' second statement, but there's no denying this was a Cinderella finish for the ages.