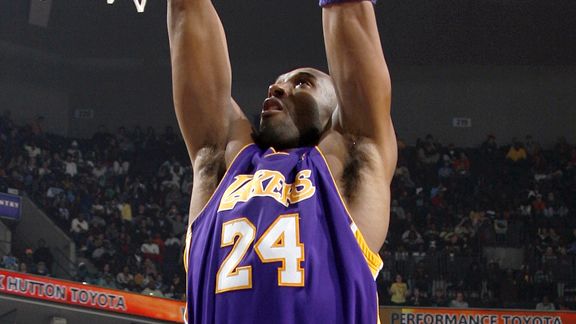 Joe Murphy/NBAE/Getty Images
After missing the Lakers last five games, Kobe Bryant returned to the lineup against Memphis and hit the game-winning shot with 4.3 seconds left. Bryant hadn't played since Feb. 5 because of a sprained left ankle and strained tendon in his left leg. The 18-day layoff didn't prevent Bryant from scoring 32 points in a 99-98 Lakers victory.
One day after the Chargers released LaDainian Tomlinson, another star running back has been released. The Philadelphia Eagles released two-time Pro Bowl RB Brian Westbrook, who rushed for 5,995 yards in eight seasons with the team. The 30-year-old Westbrook has been limited in the past few seasons because of injury. Two concussions and an ankle injury forced Westbrook to miss eight games last season.
Camby Sprains Ankle in Blazers Loss
The Portland Trailblazers acquired Marcus Camby Feb. 16 from the Los Angeles Clippers. Camby was hurt Tuesday night when Nets C Brook Lopez appeared to step on his ankle in the first quarter. Coincidentally, the last time Camby played in New Jersey, with the Clippers on Jan. 27, he was injured during the first quarter. He bruised his ribs and left after seven minutes. Portland has already lost centers Greg Oden and Joel Przybilla for the season with injuries.
Former Raiders Coach Sues Team And Head Coach
Former Oakland Raiders assistant Randy Hanson sued head coach Tom Cable and the team on Tuesday. Hanson is suing for damages suffered during a training camp scuffle that left Hanson with a fractured jaw and broken teeth. The suit alleges that after Cable was restrained by the other coaches, he threatened to kill Hanson. Defensive assistants John Marshall, Willie Brown and Lionel Washington also attended the meeting, the lawsuit says.
Durant's Streak Continues 25-point Streak in Loss
Thunder all-star Kevin Durant extended his scoring streak Tuesday night to 29 straight games with 25 or more points. It wasn't enough for his team as Oklahoma City fell to the Phoenix Suns 104-102, ending the team's nine-game winning streak.
Antawn Jamison scored 18 points in his first start for Cleveland. LeBron James added 20 points and 13 assists to help secure a 105-95 win Tuesday over the New Orleans Hornets, ending a three-game losing streak.
Celtics Miss Flu-Ridden Pierce
Celtics F Paul Pierce was not with the team during its 110-106 victory Tuesday night against the New York Knicks, because of the flu. Celtics coach Doc Rivers says Pierce would have missed the game anyway because of a sore right thumb that has bothered him for nearly a week. Pierce injured his thumb on Thursday in a win over the Los Angeles Lakers.
Philadelphia University coach Herb Magee won his 903rd career game Tuesday, surpassing Hall of Famer Bob Knight to become the winningest men's coach in NCAA history. The 68-year-old Magee got the record with a 76-65 victory over Goldey-Beacom College. Magee, who won all 903 games over a 43-year career with the Division II Rams, led the program to a national championship in 1970.
Peppers Interested In The Eagles?
A league source told 97.5 The Fanatic's Brian Seltzer that the Philadelphia Eagles are a target of high interest to DE Julius Peppers. Carolina GM Marty Hurney said in a press conference today that the Panthers would not utilize a franchise tag on Peppers. Per the source, Peppers' interest in joining the Eagles began following the 2009 Pro Bowl, when he played for the NFC roster, coached by Andy Reid's staff.
Rodriguez To Remain At Michigan
The NCAA is accusing Michigan of five potentially major rules violations under coach Rich Rodriguez, who admitted making "mistakes" but will be back for a third try at restoring the Wolverines back into national-championship contention. Incoming athletic director David Brandon disclosed the NCAA conclusions Tuesday, while expressing full support for his coach, who is just 8-16 in two seasons in Ann Arbor. Brandon: "Rich Rodriguez is our football coach, and he will be our football coach next year" .
Josh Howard Out For The Season
Wizards President Ernie Grunfeld announced Tuesday that recently-acquired SF Josh Howard has a torn ACL in his left knee and will miss the remainder of the season. Howard suffered the injury in Monday night's game vs. Chicago. In four games (three starts) for Washington this season, Howard averaged 14.5 points and 3.3 rebounds per game. No timetable has been announced for Howard's recovery.
Jayson Williams Sentenced To Prison
Former NBA star Jayson Williams was sentenced in New Jersey State Superior Court to five years and a minimum 18 months in prison for the fatal shooting in 2002 of his driver Costas Christofi. A retrial on an earlier reckless manslaughter count was avoided last month, when Williams pleaded guilty to aggravated assault in Christofi's death. Williams was acquitted of aggravated manslaughter in 2004, and will be eligible for parole after 18 months.