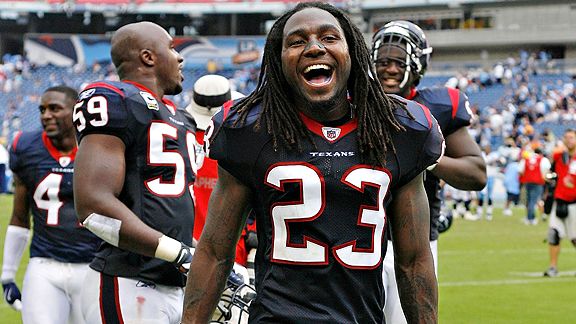 Andy Lyons/Getty Images
High-Profile Free Agent
A premium NFL free agent is set to hit the market without the franchise tag. The Texans will not tag veteran CB Dunta Robinson, who is now free to sign with any other team without compensation being sent back to Houston. The 27-year-old Robinson is regarded by many as the top cornerback on the market along with New England's Leigh Bodden, who also cannot and will not be tagged.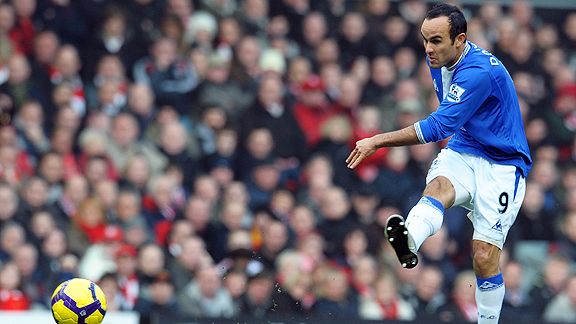 Paul Ellis/AFP/Getty Images
Landon's Great Experience
American Landon Donovan's run with Everton in the English Premier League has been so strong and pleasurable that he plans to return to the club at some point in the future. Donovan is concluding a 10-week loan to Everton and will soon return to the Los Angeles Galaxy for the start of the MLS season March 27th.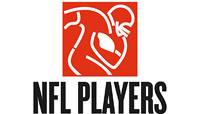 HGH Testing In NFL And MLB
The NFL has proposed blood-testing its players for human growth hormone, officials familiar with the deliberations said Tuesday, according to the Washington Post. The NFL Players Association, which would have to ratify the change for the testing to be put into effect, opposes the proposal, saying that players should not be subjected to blood-testing. The NFL currently has HGH on its list of banned performance-enhancing substances but does not test for it.
The New York Times is reporting Major League Baseball, which had long been skeptical about a viable test for human growth hormone, now plans to include blood testing for the substance in the minor leagues later this year, according to an official in baseball with direct knowledge of the matter.