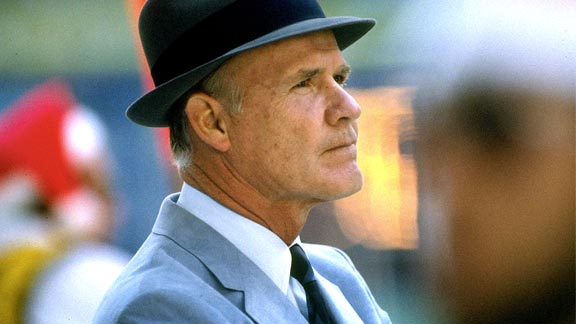 MPS/NFL
Tom Landry's last day in Dallas is only one reason why football fans in Texas hate February 25th.
February 25, 1987, 1989, and 1994:
In 1987, the Southern Methodist University Mustangs became the first, and so far only, football program to receive the NCAA's "death penalty." As a punishment for funneling money from their boosters to their players, the SMU Mustangs' storied football program was shut down for the 1987 season. After more than 20 difficult years, the team may finally be recovering - the Mustangs made their first appearance in a bowl game since the sanctions with a 45-10 victory over the University of Nevada in the 2009 Hawaii Bowl.
In 1989, Jerry Jones rolled into Dallas, purchased the Cowboys and promptly fired Hall of Famer Tom Landry. Landry, the only coach the Cowboys had ever known, was immediately replaced with Jones' old teammate from the University of Arkansas and then coach of the University of Miami, Jimmy Johnson. Although NFL commissioner Pete Rozelle compared Landry's departure to the death of Vince Lombardi, the blow would soon be softened by three Super Bowl titles in the '90s.
In 1994, Texas, Texas Tech, Texas A&M, and Baylor formally accepted invitations to join the Big Eight (soon to be the Big 12), thereby dealing a death blow to the now defunct Southwestern Conference. Original SWC members Oklahoma (1915-1919) and Oklahoma State (1915-1925; then known as Oklahoma A&M) have since joined the Big 12 in subsequent years. In its heyday, the SWC was the home of legendary coach Paul "Bear" Bryant (Alabama) and a fullback/defensive back at the University of Texas named Tom Landry.