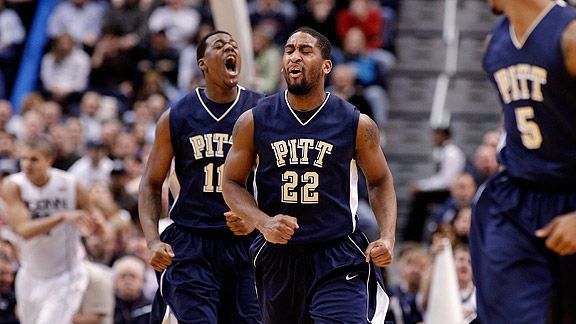 David Butler II/US Presswire
(16) Pittsburgh (21-6, 10-4 Big East) vs Notre Dame (17-10, 6-8 Big East)
7:00 PM ET, February 24, 2010 -- Purcell Pavilion at the Joyce Center, South Bend, IN -- ESPN2
Pittsburgh has won 5 straight overall, but they have lost 3 of their last 4 conference road games. Pitt's Ashton Gibbs has scored in double-figures in 20 of his last 22 games. Notre Dame has won 9 of their last 12 conference home games.
Game Preview: (16) Pittsburgh vs Notre Dame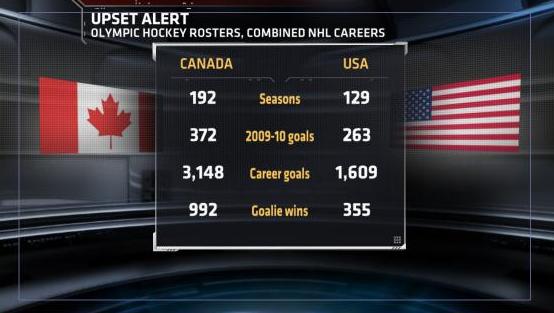 (6) Canada (2-1-0-1, 8 points) vs (3) Russia (2-0-1-0, 7 points)
7:30 ET, February 24, 2010 -- Canada Hockey Place, Vancouver, BC
If numbers don't lie tonight's contest should be a lamp-lighting event. Canada is 1-9-0 all-time in the Olympics vs USSR/Russia/Unified Team with the only win coming in 1960. Evgeni Nabokov has stopped 41 of 45 shots this tournament. Dany Heatley and Sidney Crosby (6) are tied for the tournament lead in points, while Jarome Iginla (5) leads the tournament in goals. Canada hopes a new line centered by Sidney Crosby will help end half a century's worth of futility against Russia, which needs to continue riding reigning two-time MVP Alex Ovechkin's scoring -- and hitting. Tonight's winner will face either Slovakia or Sweden.
Game Preview: Canada vs Russia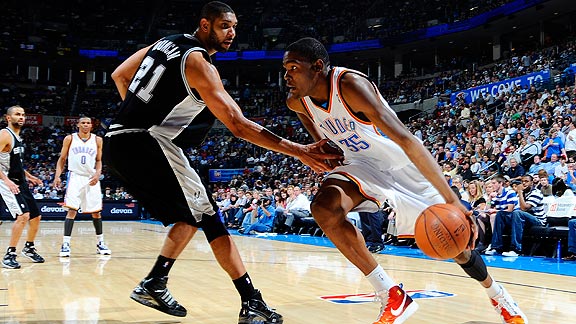 Larry W. Smith/Getty Images
Oklahoma City Thunder (33-22) vs San Antonio Spurs (31-23)
8:30 PM ET, February 24, 2010 -- AT&T Center, San Antonio, TX
Kevin Durant scored 36 points last night and overtook LeBron James for the league lead in scoring average, 29.9 to 29.8. No player in Thunder/Supersonics history has ever led the league in scoring in the franchise's 43 seasons in the NBA. In fact no player from that team has even finished second. The highest ranking is shared by Spencer Haywood (1972-73) and Dale Ellis (1988-89), who placed third in the NBA in points scored per game in those seasons. The 21-year-old Durant is looking to extend his 25+ ppg scoring streak while more importantly helping his team start a new win streak following last night's loss to the Phoenix Suns. As crazy as it sounds, the Spurs could realistically miss the playoffs for the first time since 1997 if they don't improve on their recent results. San Antonio has dropped 10 of its last 17, slipping to seventh in the West -- 1 1/2 games behind the sixth-place Thunder.
Game Preview: Thunder vs Spurs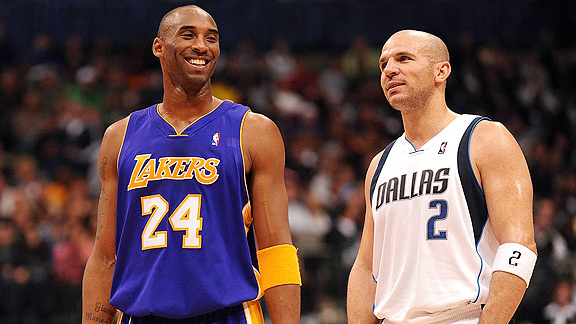 Ronald Martinez/Getty Images
Los Angeles Lakers (43-14) Dallas Mavericks (36-21)
9:00 PM ET, February 24, 2010 -- American Airlines Center, Dallas, TX -- ESPN
Kobe Bryant's game-winning three-pointer last night at Memphis was his league-high 18th go-ahead field goal in either the fourth quarter of a game or in overtime this season. Next-most: Dirk Nowitzki (15), Joe Johnson (14) and five players (including Caron Butler) tied with 13. Since returning from the All-Star break with a revamped roster, Dallas has outscored opponents by an average of 8.6 points per 48 minutes with Haywood and Nowitzki on the court together and they've played to a standoff against their opponents with Haywood and/or Nowitzki on the bench. Jason Kidd can make some history against the Lakers tonight. Kidd can pass Scottie Pippen and possibly even Maurice Cheeks to move into 4th place on the all-time steals list (steals became an official statistics in the 1973-74 season). The Lakers have really owned the Mavericks lately, winning eight of their last nine meetings.
4. Cheeks - 2310
5. Pippen - 2307
6. Kidd - 2306
Game Preview: Lakers vs Mavericks
..............................................................................................................................................
Note: The Elias Sports Bureau and ESPN Stats and Information group contributed to this report.