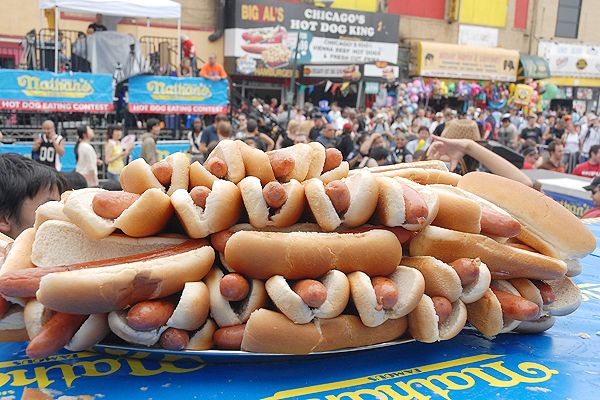 Wireimage
Next thing you know, participants will have to wear safety goggles at eating contests.
As if being a fan of the Kansas City Royals wasn't rough enough, apparently it has now also become a health hazard. John Coomer, who was seated in the 6th row at the Royals game against the Tigers on September 8th, is now suing the team as the result of an alleged errant hot dog toss from the paws of Sluggerrr the mascot. Seriously.
According to the lawsuit filed earlier this month, Sluggerrr's failed attempt to complete a technically-difficult behind-the-back hot dog pass caused Coomer to suffer a detached retina and other damages. For Coomer, this is no laughing matter - he claims to have undergone two surgeries and suffered permanent vision loss in his left eye.
Sluggerrr and the Royals have declined to comment on the lawsuit, so we can only guess what their defense will be. One thing we do know is that the hot dog has an alibi - he participated in the Sausage Race at Miller Park that same night when the Brewers hosted the Cardinals.
Coincidentally, the Royals are now on the lookout for someone new to rock Sluggerrr's costume this upcoming season (spoiler alert: he's not real!). The Royals hung a Mascot Wanted poster on the MLB Job Board two weeks ago before taking it down shortly thereafter. For what it's worth, the team insists that there's "no connection" with the hot dog affair.
Meanwhile, Coomer's lawsuit is yet another punch in the gut of the hot dog this week. First, the American Academy of Pediatrics announced its recommendation that hot dogs come with warning labels and are "redesigned" to prevent choking incidents (our favorite solution: the Big Hot Dog that slices into patties). Then, Coney Island began demolishing a 19th-century building where the idea of selling pork sausages on a warm bun was first born (and where Nathan Handwerker of Nathan's Famous once slept on the kitchen floor).
And now this. Sluggerrr, your timing is terrrible.