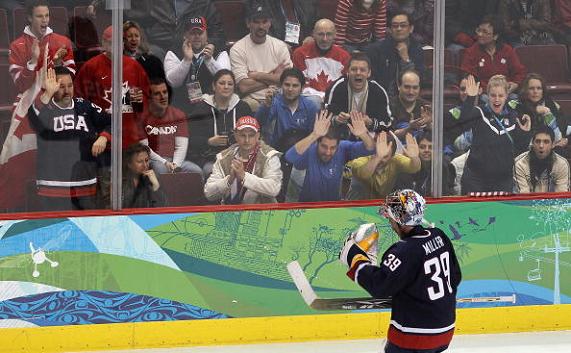 Cameron Spencer/Getty Images
USA's Ryan Miller makes a save against Thibaut Monnet of Switzerland during the ice hockey men's quarter final game.
USA Beats Switzerland - Advances To Semifinals
Zach Parise scored both goals and Ryan Miller made 19 saves as the United States beat Switzerland 2-0 to reach the Olympic hockey semifinals.
Vonn Breaks Right Pinkie In Giant Slalom Spill
Lindsey Vonn crashed and failed to finish the first run of the fog-shrouded Olympic giant slalom race Wednesday and broke her right pinkie. She will still compete in her final event at the Vancouver Games later in the week.
Westbrook Not Retiring - Hears From Other Teams - Maybe Chicago?
A day after the Eagles released him, Brian Westbrook is upbeat about his future in the NFL. On Wednesday, Westbrook said his agent has already heard from three or four teams and he will play in 2010.
LT Bids Tearful Farewell To Chargers, Fans
An emotional LaDainian Tomlinson says he's sad to be leaving the San Diego Chargers, but is excited for the future. The star running back says he wasn't given a reason why the Chargers released him on Monday.
After the jump ... stories on the passing of Mosi Tatupu, Human Growth Hormone testing in baseball/football and Derek Jeter's contract coming to an end.
Patriots Mourn Passing Of Mosi Tatupu
Mosi Tatupu, one of the most popular players in New England Patriots history died Tuesday ... A cause of death was not disclosed. Tatupu played in the NFL for 14 years ... 13 with the Patriots.
Baseball Plans To Test For HGH In Minors
Major League Baseball plans to implement blood testing for Human Growth Hormone in the minor leagues later this year ... This according to an official in baseball with direct knowledge of the matter. In the majors, HGH is banned under the Joint Drug Program. MLB does not currently test for HGH, because no scientifically validated urine test exists.
NFL Union To Discuss League's Proposal To Blood-Test Players For HGH
According to the Washington Post, the NFL wants to use blood tests to check for Human Growth Hormone in its players. HGH is on the list of banned substances, but the league doesn't test for it. If the NFL Players Association were to ratify the change, testing could begin next season, but the NFLPA opposes the change saying players should not be blood tested.
Jeter Wants To Remain A Yankee
Derek Jeter wants to play in pinstripes for his entire career ... But right now, he just doesn't want to spend time talking about it.