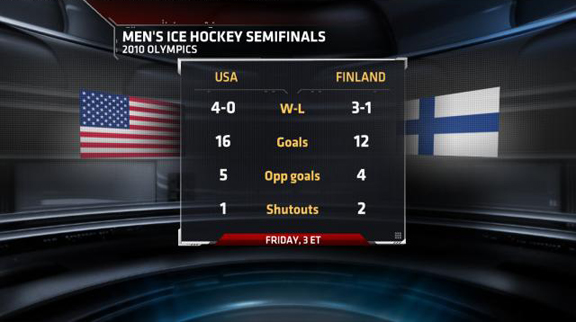 United States 2, Switzerland 0
QUEST FOR GOLD: After beating Canada, the U.S. Men's Hockey team scores two goals in the final period to beat Switzerland 2-0 and advance to the semifinals, ensuring it will play for at least the bronze medal. It was the first game of the entire Olympic tournament - men or women - to go scoreless through two periods. Ryan Miller records the first Olympic shutout by a U.S. goaltender since Mike Richter blanked Germany in the 2002 quarterfinals. The U.S. plays Finland in the semis Friday at 3 ET. One key number to keep in mind is the number 2 - that's the number of shutouts Finland's two goalies have notched in the 2010 Vancouver games.
MORE: Game Recap | Box Score | VIDEO: Holtzman: Team USA Keeps On Keeping On
After the jump, we take you inside the Men's Olympic hockey bracket, Kevin Durant's scoring streak, Dwight Howard joins an elite club, plus Notre Dame and Purdue's tournament resumes.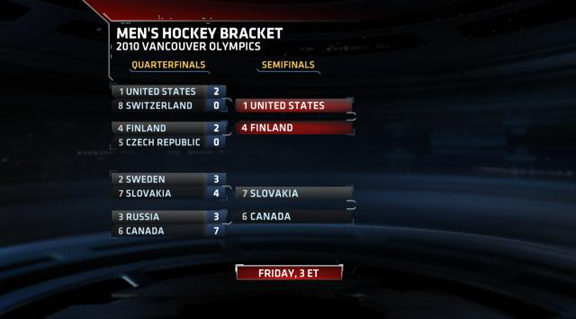 Canada 7, Russia 3
FROM CANADA WITH LOVE: Canada blows past Russia 7-3, its first Olympic win over Russia since 1960, to also reach the semifinals. Fourteen of the 20 players on the Canadian roster had at least a point, though Sidney Crosby was one of the few without one. Russia had allowed just five goals total over its first three games. This keeps alive the possibility of a Gold medal rematch with the United States, assuming both teams survive their semifinal game.
MORE: Game Recap | Box Score | Toronto Star: Canada comes at Russia like 'gorillas coming out of a cage'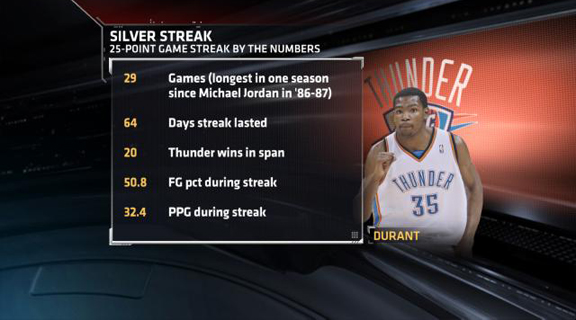 Spurs 95, Thunder 87
35 MISSES 25: Kevin Durant's streak of 29 games with 25+ points comes to an end, as he is held to 21 points in a 95-87 loss to the Spurs. Durant's streak was tied for the third-longest among forwards in NBA history, trailing only Bob McAdoo (32 from 1974-75 to 1975-76) and Spencer Haywood (32 from 1972-73 to 1973-74). Not only did his streak last 64 days, but he helped the Thunder win 20 games over the span of his streak. It won't take long for Durant to start another streak...so its safe to say the NBA shouldn't close the record book just yet.
MORE: Game Recap | Box Score | Highlight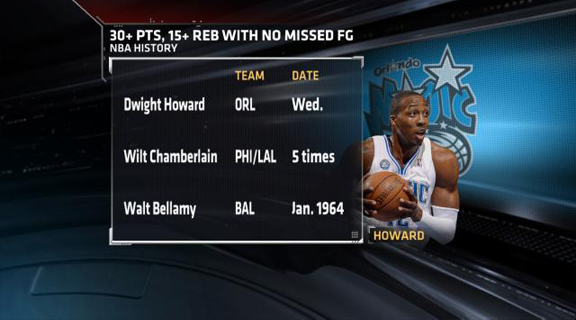 Magic 110, Rockets 92
Dwight Howard(aka Superman) becomes the first player since Wilt Chamberlain on March 11, 1969, to have 30+ points, 15+ rebounds and no missed field goals in a game. Howard was 11-11 from the field with 30 points and 16 rebounds in the Magic's 110-92 win over the Rockets. Howard, Chamberlain (5 times) and Walt Bellamy (Jan. 1964) are the only players to do it in NBA history.
MORE: Game Recap | Box Score | Highlight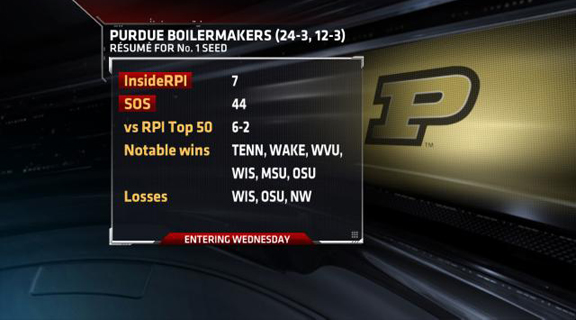 (3) Purdue 59, Minnesota 58
Keaton Grant hits the GW shot with 7 seconds left to give Purdue its 10th straight win. The Boilermakers have won 23 of their last 25 games vs unranked opponents and 5 straight on the road vs conference opponents. JaJuan Johnson led Purdue with a team-high 14 points, but the story for Purdue is the loss of junior forward Robbie Hummel. Hummel left the first half with an apparent right knee injury. Hummel had 11 points before leaving the game. Minnesota has lost 22 of its last 28 games vs ranked opponents. Ralph Sampson III finished with a career-high 21 points in the loss for the Gophers.
MORE: Game Recap | Box Score | Highlight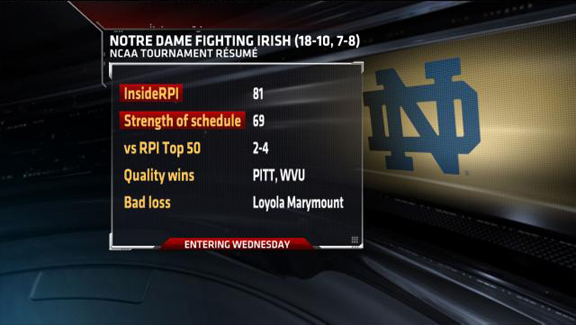 Notre Dame 68, (16) Pittsburgh 53
Despite playing without Big East leading scorer Luke Harangody for a 3rd straight game, Notre Dame defeats Pittsburgh by 15 to snap a 3 game losing streak. Four starters scored in double-figures for Notre Dame including a game-high 17 from Tim Abromaitis. This is just the 3rd win for the Irish in their last 14 games vs ranked opponents. For Pittsburgh, the Panthers have a 5 game winning streak snapped. The 53 points scored by Pittsburgh are the 3rd fewest scored in a game this season (average 68.7 PPG).
MORE: Game Recap | Box Score | Highlight