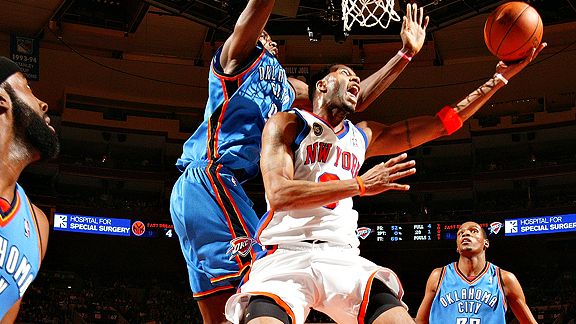 SMALLER EXPECTATIONS IN THE BIG APPLE
Tracy McGrady's debut with the Knicks was splashy. 26 points in 32 minutes. But with his production falling hard in the two games since, and with the Knicks winless in all three games, McGrady has shifted his focus from carrying the load in New York to simply staying healthy in New York. "This is just all about trying to get myself back, getting up and down the court, being able to finish this year out," he tells the New York Post. "It's really not about my results. This is about physically and mentally getting through this season."
More of what's happening At This Hour, including the latest in the murder trial of high school football coach Ed Thomas, and why Big Z may be 30 days closer to returning to the Cavs, after the jump.
DELIBERATIONS CONTINUE IN BECKER MURDER TRIAL
At 10:00 am ET, a jury will resume consideration of the fate of an Iowa man accused of killing his former high school football coach. 24-year-old Mark Becker has pleaded not guilty by reason of insanity for shooting 58-year-old Ed Thomas six times in front of several students. Closing arguments came yesterday.
ILGAUSKAS FINDS FREEDOM IN WASHINGTON
The Wizards have bought out the final year of Zydrunas Ilgauskas' contract. He was acquired from the Cavs in the trade for Antawn Jamison last week. Big Z is now free to sign with any team immediately - except Cleveland. Under league rules, he must wait 30 days to re-sign with the Cavs.