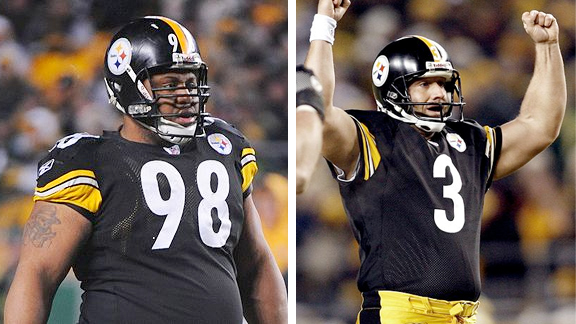 STEELERS REACH DEAL WITH HAMPTON, TAG PK REED:
According to ESPN.com's John Clayton, the Steelers didn't have to franchise defensive tackle Casey Hampton because they reached a three-year, $21.3 million deal Thursday. After that, they placed the franchise tag on kicker Jeff Reed. Reed, like Olindo Mare of the Seahawks, will have a one-year tender at $2.418 million. It would cost a team two first-round picks to acquire Reed if he would sign a contract with them. The Steelers would have seven days to match any offer.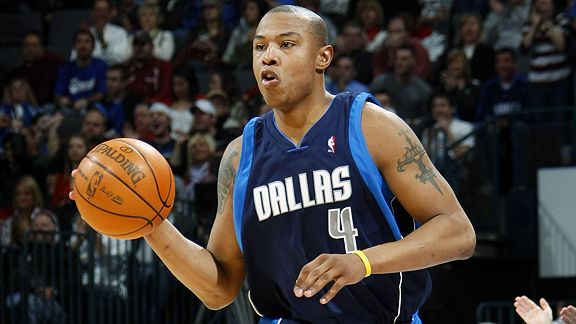 THE SHORTEST STRAW HAS BEEN PULLED FOR YOU:
One of the first things many people noticed about Caron Butler after his arrival to the Dallas Mavericks is that the guard likes to chew straws during games. The NBA obviously took notice as well. NBA executive vice president Stu Jackson phoned Butler on Tuesday and told him to leave his straws at home. Butler did not play against the Los Angeles Lakers due to a reaction to medication, so he was unavailable for comment. But the Mavs confirmed that the league is serious about outlawing straw chewing.

NBA STANCE ON HGH:
In the wake of a reports of possible HGH blood testing in the baseball's minor leagues and the NFL wanting to make HGH blood testing part of its new collective bargaining deal, Chris Sheridan of ESPN.com asked the NBA if it had future HGH blood testing plans. He received this response: "We have been and will continue to monitor advances in the testing for HGH for potential inclusion in our program at an appropriate time," league spokesman Tim Frank said.
Note: HGH is already on the NBA's banned substances list. The league tests for it through urine testing, not blood testing. The Associated Press contributed to this report.