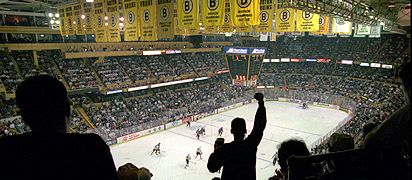 AP Photo/Elise Amendola
In the glory days of the Boston Garden, there were few tougher places to play on the road.
February 26, 1981: Back when the Dallas Stars were the Minnesota North Stars, the Boston Bruins packed the one and only Boston Garden, and punches were easier to land on heads that weren't covered with helmets, a gloriously violent NHL game erupted on the ice.
The North Stars skated into Boston that night with a chip on their shoulder caused by a ridiculously unsuccessful 0-27-7 all-time record in the Garden. A mere seven seconds into the game, the first fight broke out. It was soon followed by another. And another. And another. And you get the idea. Those in attendance would have some irreplaceable memories and those on the ice would have lost some irreplaceable teeth.
The first period of the game spanned an hour and 31 minutes of mayhem (including 20 minutes of actual hockey) that resulted in 67 penalties (totaling 341 minutes) and 12 players ejected (seven North Stars and five Bruins).
By the end of the third period, the North Stars and the Bruins would combine for 84 penalties (totaling 406 minutes). The 406 penalty minutes set an NHL record that wouldn't be topped until the Ottawa Senators visited the Philadelphia Flyers on March 5, 2004 (there were 419 bruising penalty minutes in that one).
Not surprisingly, the Bruins won the game 5-1 and sent the North Stars back to Minnesota with their hockey sticks tucked between their legs and an 0-28-7 record at the Garden. For those that are into this kind of thing, you can now watch the highlights here through the magic of YouTube.