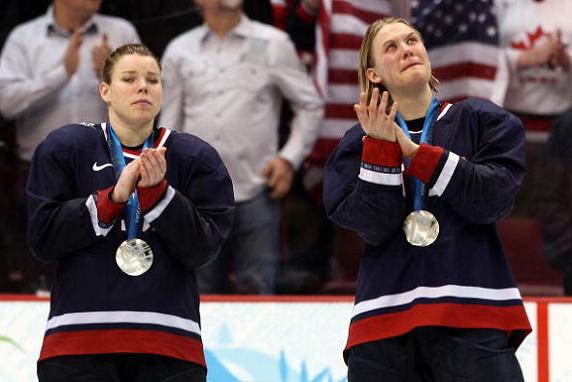 Bruce Bennett/Getty Images
Not Happy With Silver ... Dejected Caitlin Cahow and Monique Lamoureux of the United States look on after receiving their silver medals.
Another valiant U.S. effort falls short as Canada wins its third consecutive gold medal. Marie-Philip Poulin scored two goals, Shannon Szabados made 28 saves, and Canada rolled through their American rivals, 2-0, to win the gold medal in women's hockey.
Two More Nordic Combined Medals For The USA
Billy Demong and Johnny Spillane gave the Americans a 1-2 finish in the Nordic combined large hill competition. Demong, starting sixth in the 10-kilometer cross-country after the morning ski jump, quickly made up time on the leaders and won easily. The U.S., which had never won a Nordic Combined medal before these Games, now has four total. Spillane won a silver in the normal hill event, and the U.S. won silver in the team event.
Purdue Confirms Hummel Out For Season With Torn ACL
Purdue forward Robbie Hummel tore his anterior cruciate ligament Wednesday night against Minnesota and is out for the remainder of the year. The junior forward was averaging 15.7 points and 6.9 rebounds per game. The Boilermakers still have a one game lead in the Big Ten standings over Michigan State and Ohio State, with three remaining.
After the jump ... Caron Butler's straw chewing, Saints trying to keep their team together, Steelers news and what Mark McGwire's brother did that made him mad.
Wizards Buy Out Zydrunas Ilgauskas
The Washington Wizards bought out the contract of center Zydrunas Ilgauskas and waived him. The 7-foot-3 Ilgauskas, was acquired from Cleveland on February 17 as part of the three-team trade that sent Antawn Jamison to the Cavaliers. Ilgauskas never played for Washington.
NBA Bans Mavericks Caron Butler's Straw-Chewing
The NBA has told Dallas Mavericks guard Caron Butler to stop chewing straws during games. Butler's teammates, including Dirk Nowitzki, poked fun at their teammate by chewing straws during warmups earlier this week.
New Orleans Saints Make Qualifying Offers To 13 Restricted Free Agents
New Orleans Saints Executive Vice President/General Manager Mickey Loomis announced Thursday that the club has tendered qualifying offers to 13 players slated to become restricted free agents at the start of the new league year. Terms of the offers were not disclosed.
Steelers Agree With Nose Tackle Casey Hampton - Tag Kicker Jeff Reed
The Steelers and nose tackle Casey Hampton have come to a three-year contract agreement worth $21.3 million. The team also placed the franchise tag on kicker Jeff Reed, meaning he will earn $2,814,000 in 2010, the average of the top five kickers in the NFL.
Mark McGwire Saddened By Brother's Betrayal
Mark McGwire's younger brother, Jay, has a book coming out that details how Jay introduced Mark to steroids, what steroids they used and also the motivation Jay alleges for McGwire's usage. The two brothers have been estranged since 2002.