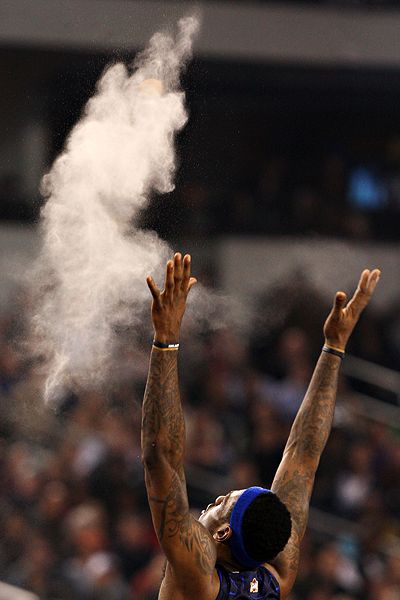 Jed Jacobsohn/Getty Images
If the chalk gets in your eyes, just pull your Snuggie over your face and breathe normally.
Just when you thought the world was over the Snuggie and moving onto the Shake Weight as its Ridiculous Mail Order Fad, the Cleveland Cavaliers pulled the fleece over our eyes.
Yup. March 5. Quicken Loans Arena. The Cavs will try to set a Guinness World Record for Largest Gathering of People Wearing Fleece Blankets. (Virtual Hat-tip to Ball Don't Lie for this wonderful little nugget.) Each fan that arrives at the game against the Detroit Pistons will get a limited-edition Snuggie. Then, a Guinness World Record rep will make it official.
As ridiculous as the whole scenario sounds (and by ridiculous we mean "kind of cool and we're sorta jealous we don't live in Cleveland so we can hslp make world Snuggie history"), it's not craziest thing a sports team or athlete has done in the name of fame Guinness World Recordry. What's that? You want to know some of our favorite "World Records"? We thought you'd never ask.
Rob Dyrdek (of Rob and Big fame) proved bigger was better (or, at least record-worthy) when he set the record for largest skateboard. He designed and produced the 36-foot, 7-inch long, 8-foot, 8-inch wide behemoth with Joe Ciaglia and the two unveiled it on MTV's "Rob Dyrdek's Fantasy Factory" in February of 2009. The pair hold the record for the longest skateboard, too. The big question is, can they ride it? The even bigger question is, can his dog, Meaty?
We wonder when/if/how Dan Magness of the United Kingdom went to the bathroom when he was juggling a football (soccer ball) for 24 straight hours to set the record for Longest Time Controlling a Football back in April of 2009. Magness' skills are definitely impressive but was he as impressive as the girl who juggled a SHUTTLECOCK (badminton birdie) for four hours and 40 minutes? That's what Li Huifeng of China did, using only her feet, back in December of 2006. We have to give the nod to Li on this one. But Magness can take comfort. We do think his record is way cooler than playing a football (soccer) VIDEO GAME for 24 straight hours.
But if we're talking basketball crowds, we have to mention Largest Attendance at a Basketball Game. This one goes to the crowd at Cowboys Stadium for the 2010 NBA All-Star Game, which attracted 108,713 fans. Though we minus major degree of difficulty points for this one since Marc Cuban and Jerry Jones have the time and money to do pretty much anything they want. We're slightly more impressed by an individual NBA all-star, Dwight Howard, and his record of longest basketball shot while sitting down. But we're waaaay more impressed by the feats of amateur athletes, like the 40 folks from St. Louis who set the record for World's Longest Baseball Marathon (32 hours, 29 minutes and 25 seconds), and Bob Fisher, the 52-year-old from Kansas who broke the Guinness Book of World Record for most free throws in one minute in January by making 50 of 59 shots.
Still. For our money, nothing beats the record of Greatest Distance Moonwalked in One Hour (3.265 miles, thank you very much). The record was set in 2006 by Krunoslav Budiselic of Croatia, also known as our new hero.