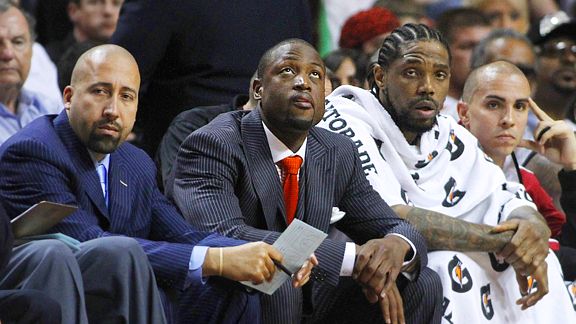 AP Photo/J Pat Carter
Not Ready, Yet
Miami Heat G Dwyane Wade ruled himself out of tonight's home game against the Milwaukee Bucks. It will be the fourth consecutive game Wade would miss because of the strained left calf injury sustained during the first quarter of a Feb. 17 victory in New Jersey. "The only thing I'm going to do (Saturday) is come in and get some more work in, a great workout in before the game, and continue to see how it feels," Wade said. "Then, Sunday, I'll do the same thing, see how it feels. I'll decide what I can do with my body."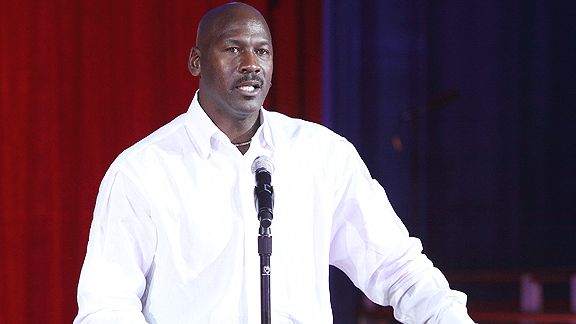 John Parra/Getty Images
MJ's New Purchase
Michael Jordan, who many believe is perhaps the world's greatest basketball player, has embraced a new challenge, succeeding as an NBA owner. Robert L. Johnson, the majority owner of Bobcats Sports and Entertainment, announced Friday that he has signed a definitive agreement to sell majority interest of Bobcats Sports and Entertainment to Michael Jordan and MJ Basketball Holdings, LLC. The deal is subject to NBA approval. Further details of the sale will be provided by the NBA.
Blazing Speed
The NFL Combine continues today and with it the opportunity for players to prove they belong in the NFL. Earlier today, Louisiana State University's Trindon Holliday recorded a blazing time of 4.22 in the 40-yard dash. His official time was later listed as 4.35. Holliday was a two-sport star at LSU. He doubled as a running back and kick return specialist for LSU last season and excelled on the track and field team as well.
The Associated Press contributed to this report.