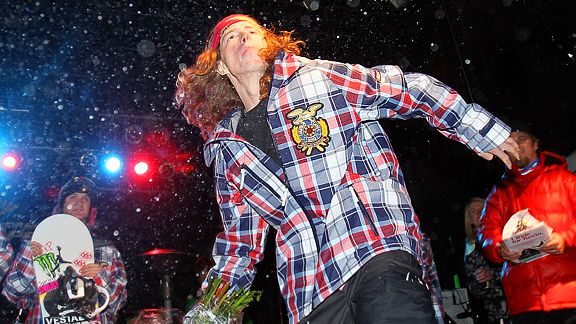 Doug Pensinger/Getty Images
Will red hair with red plaid take over the mountains this season? The jury's out. But Shaun White's two straight half pipe golds aren't going anywhere soon.
The 2010 Vancouver Games ended Sunday with an epic USA-Canada men's ice hockey battle. Canada won in overtime, 3-2, in what was a fabulous finale to 17 days of snowy, icy drama. What have we learned after spending nearly two weeks focusing all our attention on the action North of the Border? Lots. If you missed something, have no fear. We've recapped all the action with an Olympic Edition of trends, fads, and curious coincidences that should be In or Out.
USA-Canada Hockey
In: In-Game Action
We got don't-blink action on the ice in both the men's and women's gold medal games between Team USA and Team Canada. Just like they did the past two Olympics, the Canadian women took home the gold (a 2-0 win over the Americans) while Sid the Kid led the Canadian men to a 3-2 win over Team USA for the gold in an edge-of-your-seat overtime final.
Out: Post-Game Action
Decidedly less fun was the big noisy fuss over the Canadian women's team's post-game antics. The team's decision to fete their gold medals with beer and cigars on the ice brought heat from the International Olympic Committee and left an air of controversy – not jubilation – after their win.
Medals
In: Team USA's Record-Setting Haul
While Canada promised to "Own the Podium," the Americans left Vancouver with 37 medals (9 gold), the most medals by any country at a Winter Games. This is only the second time the Americans led the medals count, the other being 1932 (when there were only, like, six other teams competing) at Lake Placid.
Out: Self-Awarded Platinum
After winning the silver medal – or as he looked at it, losing the gold to American Evan Lysacek – Russian men's figure skater Evgeni Plushenko awarded himself a platinum medal on his personal website. Plushenko later said he had no knowledge of the platinum medal but did not deny his feelings that he should have won the gold after landing a quad jump while Lysacek didn't. "Quad is quad. If the Olympic champion doesn't know how to jump the quad, I don't know," he was quoted as saying. "Now it's not men's figure skating, it's dancing. That's my point."
Cute Couples
In: Husband and Wife Pairs
Chinese pairs skaters Shen Xue and Zhao Hongbo were the darlings of these Olympics. The married skaters – he proposed on the ice after their gold medal-winning skate at the 2007 world championships - put wedded life on hold to come out of retirement and compete in one last Games. Making their comeback ever so sweet, they won that elusive gold medal to boot. Adorbs.
Out: Brother and Sister Pairs
It's not uncommon for siblings to pair up as ice dancing partners, but when four sibling pairs took the ice this year and the compulsory portion of the competition was the "Tango Romantica" aka the Should-Be-Forbidden Dance, let's just say things were awkward. Said Chris Reed, who skates with his sister Cathy for Japan, "Our coach told us envision someone else's head is there."
Bobsledding
In: The Night Train
On the second-to-last day of the Games, the U.S. four-man bobsled team USA-1, also known as the "Night Train," provided some last-minute magic. Driver Steven Holcomb, Steve Mesler, Justin Olsen and brakeman Curt Tomasevicz won the gold medal – the first gold medal in U.S. bobsled since 1948.
Out: Jamaica Missing the Train
The Jamaican bobsled team did not qualify a sled for the Vancouver Games, dashing our hopes for the making of "Cool Runnings 2: The Vancouver Edition (aka This Time They Win Gold)." The team was trying for a wild card slot but finished just out of the qualifying. Sad times.
Whistler Mountain
In: Miller the Maverick
After all the hype, it wasn't poster girl Lindsey Vonn who was the Big American on the Mountain at Whistler, but unlikely hero Bode Miller. Miller redefined the phrase "Huge Disappointment" after falling way short of all his hype in 2006 but wrote his redemption story in Vancouver by winning a gold, a silver and a bronze. That makes him just the fifth U.S. athlete to win three medals in a single Winter Olympics. It wasn't that Vonn wasn't good – she won gold in downhill and bronze in the super-G – but she wasn't Phelpsian. But then again, who is (besides Michael Phelps, that is)?
Out: Maverick Weather
First there wasn't enough snow in the mountain. Then there was too much. Multiple races and training runs were postponed or canceled. For example, to get in their mandatory training before the downhill, the women skiers had to ski the start of the course in the morning, before the men's race, and ski the lower part in the afternoon. Not ideal.
Skating Coaching
In: U.S. Men's Figure
Evan's Lysacek's gold medal win was sweet for him and it was super sweet for Frank Carroll, his 71-year-old coach. The legendary Carroll had come oh-so-close to coaching a skater to Olympic gold – he coached Michelle Kwan to silver in 1998 – and finally got his gold medal pupil in Lysacek.
Out: Dutch Men's Speed
Dutch speedskater Sven Kramer, the overwhelming favorite in the 10,000-meter race, finished first but was disqualified after failing to switch lanes after the midway part of the race. Kramer blamed his coach, Gerard Kemkers, who Kramer said directed him into the wrong lane. After some post-race name calling, the two have since made up.
Pants
In: Norwegian Curling Team's
The Norwegian curling team made noise with its colorful pants right from the start, as the pants earned loud cheers from the crowd and even their own facebook page. The team backed up its loud trousers with some loud play too, winning the silver medal (Canada took gold) in the final.
Out: American Snowboarding Team's
Burton, the American Olympic snowboarding team's outfitter, went all hipster on us with their faux denim snowboarding bottoms. And that had some people wondering if that was really the image Americans wanted to show the rest of the world. Say what you will about the look, but it didn't hurt Team USA's medal totals. Seth Wescott won gold in men's snowcross, fan fave Shaun White repeated as gold medalist in men's halfpipe while teammate Scott Lago won bronze, and Hannah Teter and Kelly Clark won silver and bronze, respectively, in women's halfpipe.
Commercials
In: Moms
Moms were all over the commercial breaks these Games, from Procter & Gamble's "Thank you, Mom." campaign to Wal-Mart's "The Official Sponsor of Moms" spot, to the surprisingly funny Toyota Sienna "Mommy Like" ads. Um, go moms?
Out: Tom Green
He's Canadian. Why wasn't he included in the "Hey everyone, did you know I'm Canadian? Come vacation here, it's not scary" commercials for British Columbia 2010? Steve Nash was. So was Samantha from "Sex and the City." And no love for Tom? What gives?
Courage
In: Canadian figure skater Joannie Rochette
Rochette brought literally everyone to tears with her performance in the short program Tuesday, skating just two days after her mother, Therese, died of an apparent heart attack early Sunday morning. Rochette skated, because that's what her mother would have wanted, and skated beautifully, then collapsed crying into the arms of her coach. Two nights later, in front of a home crowd, Rochette skated her way to a bronze medal.
Out: Ummmmm …
You know what? We know the Sap-o-Meter's going to be off the charts here, but we really can't award an "out" here. Courage is always "In" and it was definitely there in Vancouver. Congrats to Rochette and to all the Olympic athletes. See you in Sochi, Russia 2014.