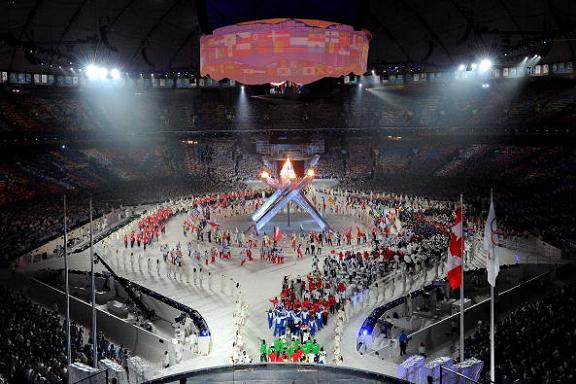 Athletes walk around the Olympic cauldron during the Closing Ceremony of the Vancouver 2010 Winter Olympics at BC Place.
Getty Images
Closing Ceremonies A Celebration
The Vancouver Olympics began with the death of a luger, but ended Sunday with a celebration of Canada -- reflecting a determined comeback by the host country's organizers and athletes.
Crosby's OT Goal Sinks U.S. For Canada Gold
Canada survived one of the greatest games in Olympic history to beat the Americans 3-2 in overtime. Sidney Crosby, scored the overtime goal and catapulted Canada over the United States for Olympic gold.
#3 Purdue Latest Top Team To Lose
Their first game without Robbie Hummel and Purdue's season quickly took a turn for the worse. The junior forward tore the ACL in his right knee and will miss the rest of the season. Without their #2 scorer and rebounder, Purdue produced its lowest point total of the season in a 53-44 loss to #14 Michigan State.
After the break, stories on Shaq heading for surgery, Al Jefferson arrested, Jimmie Johnson's streak and a stressful vacation for Urban Meyer.
Shaq Will Have Surgery On Sprained Right Thumb
Cavaliers center Shaquille O'Neal traveled to the National Hand Center in Baltimore to find that he will need surgery to repair his injured thumb. The surgery will be performed Monday morning at Union Memorial Hospital in Baltimore. A timetable for his return to play will be determined after the procedure.
Timberwolves Suspend Jefferson For DWI Arrest
The Timberwolves have suspended Al Jefferson for the next two games without pay after being arrested Sunday morning on suspicion of DWI. The arrest came shortly after Jefferson scored 19 points in Saturday's 19-point loss to the Blazers. He's scheduled to go to court April 23rd. Jefferson released a statement saying, "I want to apologize to the entire Timberwolves organization, owner Glen Taylor, my teammates, coaches and Wolves fans everywhere for my actions (Saturday) night."
Source: Agent says Ilgauskas to Cavs
A source close to discussions with Zydrunas Ilgauskas told ESPN.com that Ilgauskas' agent has said that Ilgauskas intends to re-sign with the Cavaliers as soon as he's eligible. League rules stipulate that Ilgauskas must wait 30 days -- after being traded from Cleveland to Washington in the three-way deal that landed Antawn Jamison with the Cavaliers and then getting bought out by the Wizards.
Jimmie Johnson Wins Second Straight Race
Luck had nothing to do with it this time ... Jimmie Johnson won Sunday's Sprint Cup race fair and square. Johnson reeled in teammate Jeff Gordon at Las Vegas Motor Speedway, where the four-time defending champion won for the second consecutive week.
Stressful Vacation For Urban Meyer
Urban Meyer just can't get away from stressful situations ... Meyer and his wife Shelley were evacuated from their hotel in Hawaii Saturday morning because of the threat of a tsunami caused by the earthquake in Chile. The couple was on vacation for a few days. In a text message Shelley said, it was a "strange ending to a great trip!"
The Associated Press contributed to this story.