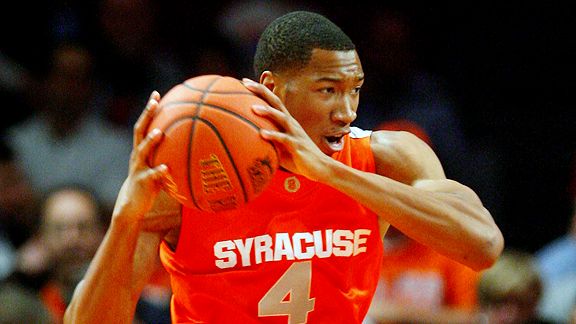 Jim O'Connor/US Presswire
For the first time since the final vote of 2002, Syracuse tops the ESPN/USA Today coaches' poll. Syracuse was ranked 4th before all three teams ahead of them lost last week. Kansas, Kentucky, Duke and Kansas State round out the new top-5.
The New York Jets announced Monday they will release RB Thomas Jones Friday. Despite rushing for a career high 1,402 yards, Jones was deemed expendable with the emergence of rookie Shonn Greene during the playoffs.
Out of respect to his hero, Michael Jordan, LeBron James announced Monday he has filed the paperwork to change his number from 23 to 6. James wore No. 6 during Team USA's gold medal run in the 2008 Olympics.
Alford Reprimanded by Moutain West
New Mexico head basketball coach Steve Alford was reprimanded by the MWC for his vulgar exchange with BYU forward Jonathan Tavernari. Alford attributed the outburst as a byproduct of an emotional game.
Celtics forward Paul Pierce will return to the lineup Tuesday after missing three games with a sprained right thumb. Pierce said the thumb has responded well to treatment and that he feels "great" about makiing his return.
Thumb Surgery Sidelines Shaq for Eight Weeks
Cavs C Shaquille O'Neal will miss the rest of the regular season. Shaq underwent successful surgery on his injured left thumb, but the recovery time will end his season and likely spill into the first round of the playoffs.
Gold Medal Hockey Game Sets Rating Record
The Gold Medal hockey game between the USA and Canada was the most watched television program in Canadian history. Over 80% of the population of Canada tuned in for at least part of the OT thriller.
Luke Harangody May Miss Season
A bone bruise in his right knee could keep Notre Dame forward Luke Harangody out for the rest of the season. Losing thier leading scorer is bad news for the Fighting Irish who are battling for their tournament lives.