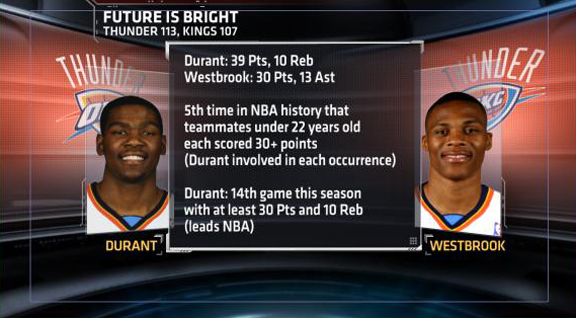 Thunder 113, Kings 107
Kevin Durant and Russell Westbrook each posted at least 30 points last night. It was just the fifth time in NBA history that teammates under 22 years of age each scored 30 or more and Durant has been involved in all five of them, 4 times with Westbrook! It was also the first game in NBA history in which teammates 21 years or younger each had a 30-10 game! The Thunder have won three straight and look to make it 4 in-a-row tonight when they head to Denver to battle Carmelo Anthony and company.
MORE: Game Recap | Box Score | Highlight
After the jump, why the Pacers can't keep pace with LA at the Staples center, find out which teams improved their tournament resumes and Joe Lunardi's last 4 in and first 4 out of the field of 65.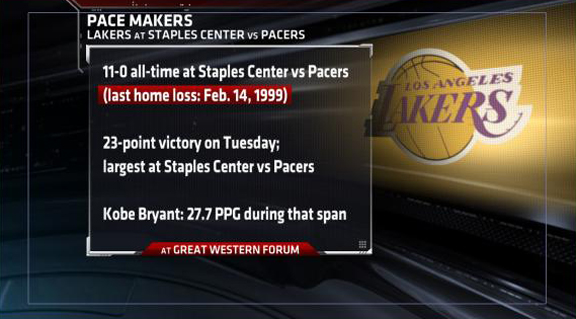 Lakers 122, Pacers 99
The Lakers home dominance of the Pacers continues - L.A. has won 11 straight at home against Indiana; the last Pacer win came in 1999, when Reggie Miller score 26 points. The Lakers led by as many as 32 points and Pau Gasol grabbed double-digit rebounds for the third straight game. Kobe Bryant got 14 of his 24 points from the free throw line; he topped 20 points after failing to do so in each of the previous two games. The Pacers are 3-8 in their last 11 and Danny Granger was held to single-digit scoring for the first time in his last 11 games.
MORE: Game Recap | Box Score | Highlight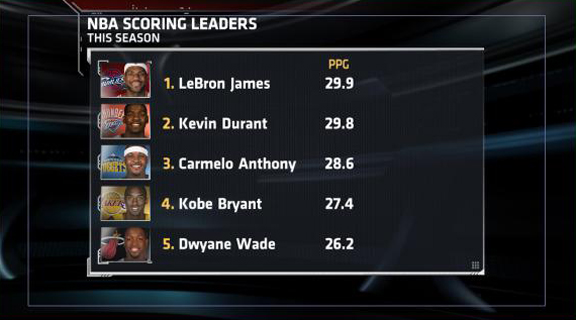 Kevin Durant's 39 points Tuesday pushes his average to 29.8 points per game, just a tenth of a point behind LeBron James for the league lead. Carmelo Anthony, Kobe Bryant and Dwyane Wade round out the league's top 5 scorers.
(1) Syracuse 85, St. John's 66
Syracuse not satisfied with reaching number one in the coaches poll for the first time since winning the 2003 national championship. The Orange win for the 15th time in their last 16 games and clinch the Big East regular-season title outright. It's the first outright Big East title for Syracuse since 1991. They improve to 28-2 on the season. The 28 regular-season wins are a school record. Syracuse has also won 19 of its last 21 conference games. The Red Storm lose to Syracuse for the 10th time in their last 11 games. They also lost their 14th straight game vs a ranked team.
MORE: Game Recap | Box Score | Highlight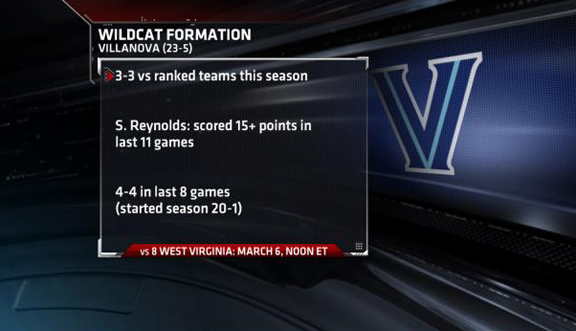 (9) Villanova 77, Cincinnati 73
Villanova wins for just the 2nd time in its last five games. Its also their 2nd win in their last five road games. Cincinnati drops just its 4th home game of their year. The Bearcats have lost four of their last five games overall. Good news and bad news for Villanova this season. The good news is that their best player Scottie Reynolds is hot, scoring over 15 in his last 11 games, now the bad news is that after starting the season 20-1, the Wildcats are just 4-4 in their last 8 games. Villanova improves to 4-1 against Cincinnati since the Bearcats joined the Big East.
MORE: Game Recap | Box Score | Highlight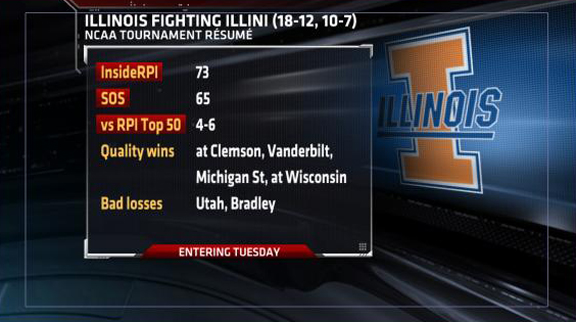 (7) Ohio State 73, Illinois 57
Ohio State's Evan Turner has been in the conversation for National Player of the Year for much of the season and rightfully so--the junior guard has led the No. 7 Buckeyes in scoring, rebounding and assists for much of his junior campaign. Tuesday night against the Illini was no different. Along with a team-high 12 boards, Turner scored from all over the floor and had a hand in 30 of Ohio State's 73 points. Ohio State's win against Illinois means that the Buckeyes clinch the top seed in the Big Ten Tournament. Illinois loses a chance to add a another big win to its resume but that doesn't mean their credentials are bare. They still have quality wins over Clemson, Vandy, Michigan State and Wisconsin and will finish their regular season Sunday at home vs Wisconsin.
MORE: Game Recap | Box Score | Highlight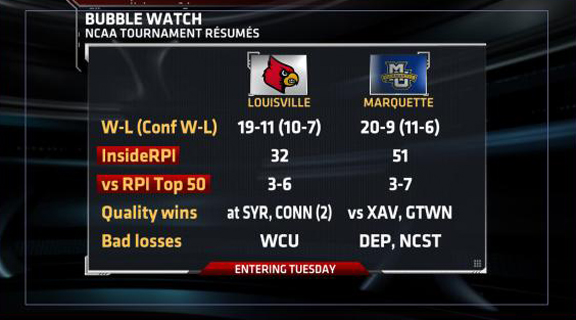 Marquette 69, Louisville 48
Marquette picks up another solid win to go with their quality wins over Xavier, Georgetown and Connecticut. Louisville fails to win its 20th game but it has a big win at Syracuse, the same team they close their regular season with, at home on Saturday. Darius Johnson-Odom had 22 points as the Golden Eagles won for the 9th time in their last 10 games and improve to 11-6 in the Big East. They are a half-game back in the loss column of Pitt for 4th place and a double-bye in the Big East tournament. Louisville scored just 48 points and didn't have a player in double figures. It's only the 8th time in the last 14 seasons that the Cardinals failed to reach the 50-point mark. The fall to 10-7 in the Big East and they finish the regular season at home vs Syracuse Saturday.
MORE: Game Recap | Box Score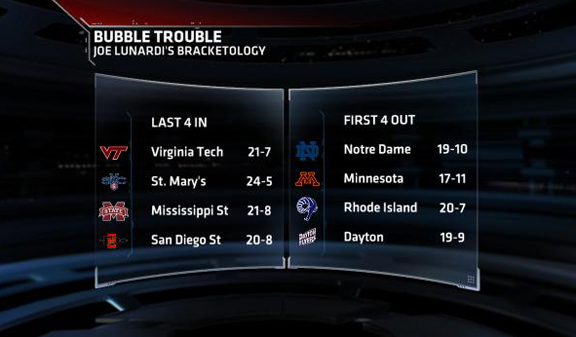 BRACKETOLOGY: Joe Lunardi's last 4 teams in the NCAA tournament: Virginia Tech, Saint Mary's, Mississippi State and San Diego State. Notre Dame, who has won against Pittsburgh and at Georgetown the last 2 games is the first team out - followed by Rhode Island, Dayton and Minnesota. Get your "blank" bracket ready, selection Sunday is March 14th, less than two weeks away.
MORE: Bracketology | Inside RPI Daily
NOTE: The Elias Sports Bureau and ESPN Stats and Information Group contributed to this report.