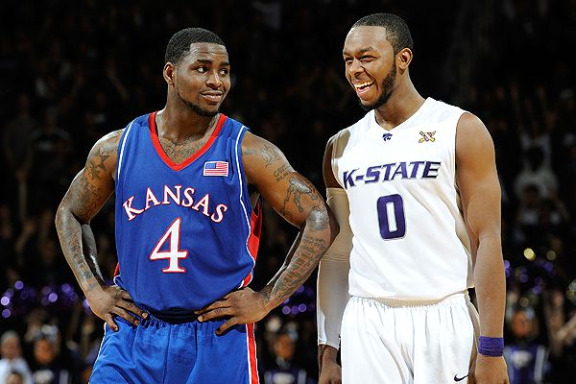 Peter G. Aiken/Getty Images
(5) Kansas St. (24-4, 11-3 Big 12) vs (2) Kansas (27-2, 13-1 Big 12)
8:00 PM ET, March 3, 2010 -- Phog Allen Fieldhouse, Lawrence, KS -- ESPN360.com
Who will be smiling after tonight's top-five matchup between Kansas and Kansas State? The Jayhawks have won 58 straight home games and are 31-2 vs Kansas State since the inception of the Big 12 (Kansas won the earlier meeting this season 81-79 in Manhattan). A Kansas win tonight clinches the top seed in the Big 12 conference tournament (March 10-13). Kansas is three wins shy of becoming the third school to reach 2,000. Kentucky and North Carolina already reached that mark this season.
Game Preview: (5) Kansas State vs (2) Kansas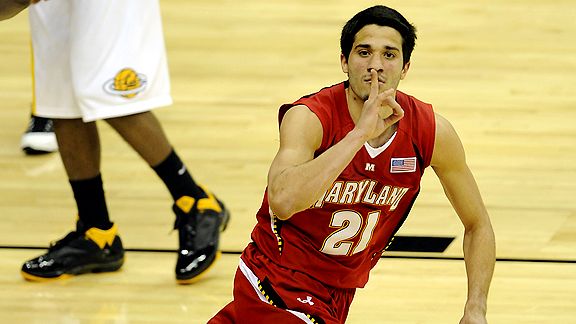 G. Newman Lowrance/Getty Images
(4) Duke (25-4, 11-2 ACC) vs (23) Maryland (21-7, 11-3 ACC)
9:00 PM ET, March 3, 2010 -- Comcast Center, College Park, MD -- ESPN
Duke has won six straight against Maryland, including a 77-56 victory over the Terrapins at Cameron Indoor Stadium on February 13. Over the last 20 seasons Maryland has had a losing streak of seven or more games against only one school. The Terrapins lost 15 consecutive games to Duke from 1988 to 1994. Only three players in Division I are currently averaging 18 points and five assists per game this season. Two are playing in this game: Maryland's Greivis Vasquez and Duke's Jon Scheyer. Maryland has won five straight games since losing to Duke February 13. The Terrapins have also won their last eight home games by an average margin of just over 19 points a contest. A Duke victory secures the top seed in the ACC Tournament (March 11-14).
Game Preview: (4) Duke vs (23) Maryland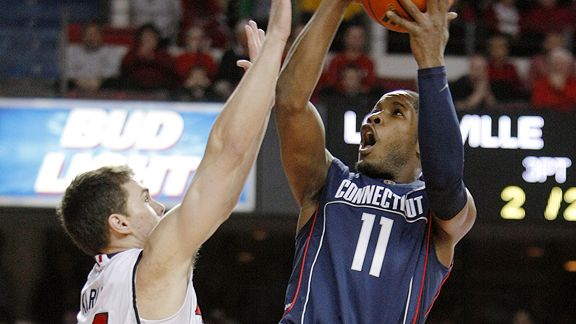 AP Photo/Ed Reinke
Connecticut (17-12, 7-9 Big East) vs Notre Dame (19-10, 8-8 Big East)
7:00 PM ET, March 3, 2010 -- Purcell Pavilion at the Joyce Center, South Bend, IN -- ESPN
ESPN Bracketologist Joe Lunardi says the Notre Dame vs UConn matchup is as close to an elimination game as you can get during the regular season. Lunardi says the Fighting Irish are sitting on the outside looking in at the NCAA Tournament. Notre Dame has momentum with back-to-back wins against Pittsburgh and Georgetown, and did so without injured senior, and leading scorer, Luke Harangody. UConn is looking to bounce back from Sunday's 78-76 loss to Louisville. The Huskies close out the regular season on the road Saturday against USF.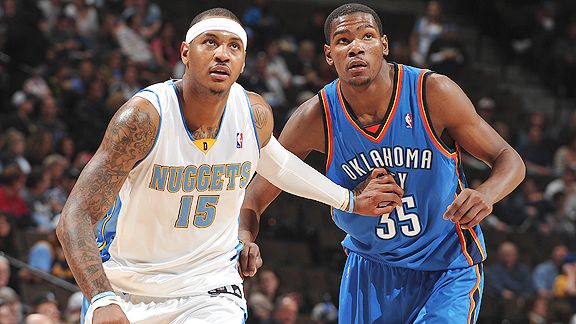 Garrett W. Ellwood/NBAE/Getty Images
Oklahoma City Thunder (36-23) vs Denver Nuggets (39-21)
9:00 PM ET, March 3, 2010 -- Pepsi Center, Denver, CO
Kevin Durant has scored 30 or more points in each of his last six games against the Nuggets. It's the longest current streak of 30-point games versus one opponent for any active NBA player. Next-longest: Kevin Martin (five straight games with 30-plus points vs. the Grizzlies) and Dwyane Wade (four straight games with 30-plus points vs. the Warriors). With a win tonight, Denver will avoid matching its longest losing streak of the season (3 games). A win will be tough coming against the Thunder, winners of 12 of their last 14.
Game Preview: Thunder vs Nuggets
..............................................................................................................................................
Note: The Elias Sports Bureau and ESPN Stats and Information group contributed to this report.