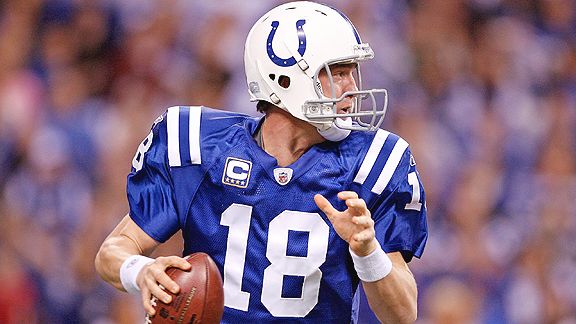 Andy Lyons/Getty Images
Peyton Manning Undergoes Neck Surgery
NFL MVP Peyton Manning underwent a procedure Tuesday to relieve neck pain. A pinched nerve had been causing Manning pain intermittently for four years, though it never affected his workouts or performance. He should be good to go for all offseason activities.
Broncos Tender Marshall and Dumervil
The Denver Broncos have secured the rights to a pair of their best players. Wide receiver Brandon Marshall was tendered at the 1st-round level while LB Elvis Dumervil was tendered at the 1st and 3rd-round level. Denver would be compensated with those draft picks should another team sign them and the Broncos choose not to match the offer.
(2)Kansas Crushes (5)Kansas State 82-65
The Kansas Jayhawks delivered a statement to the college basketball world Wednesday. By beating the 5th-ranked team in the country by 17 points, they clinched the No. 1 seed in the Big 12 tournament. Rock Chalk is in good position to be a #1 seed in the NCAA tournament.
Football Could Be Returning to Wrigley Field
Northwestern and Illinois are working on playing their annual match up at Wrigley Field next season. Wrigley has seen football in the past...the Chicago Bears called it home from 1921-1970.
Nolan Ryan Expects 92 Wins From Rangers
Texas Rangers president Nolan Ryan says he expects his team to total 92 wins and win the AL West. The Rangers won 87 games last season but finished 10 games behind the Angels for first place in the division. Third baseman Michael Young is backing his boss' statement saying, "I think we're capable, but I'm not going to put a win total on anything because I don't know if 92 is enough to win it or not."
Crosby's Gear Missing After Golden Goal
Sidney Crosby tossed aside his stick and gloves after scoring the gold-medal-winning goal and evidently never got his gear back. According to officials, his equipment was thought to be gathered and put into a team bin but later was missing. An investigation is ongoing, which may or may not include an "e-bay" search.
Bears Meeting With Peppers Could be Tampering
The Chicago Bears reportedly met with Julius Peppers' agent during the NFL combine in Indianapolis. If a meeting did take place about the soon-to-be free agent, the league's tampering rules would have been violated. The report is consistent with the thoughts around the league that the Bears are extremely interested in the 5-time Pro Bowler.
Team USA Soccer Drops Friendly with Netherlands 2-1
The American soccer team fell just short against one of the top teams in the world. A controversial penalty kick gave the Netherlands an early lead and the Americans couldn't recover. Despite the loss, it was a solid showing against the world's 4th-best team (according to the Soccer Power Index Rating).
Joakim Noah Out Three Weeks with Plantar Fasciitis
Bulls C/F Joakim Noah has been shutdown due to a nagging foot injury. Noah has been playing through pain from plantar fasciitis in his left foot since before the All Star break. The NBA's 2nd-leading rebounder is hoping to miss only 3 weeks.