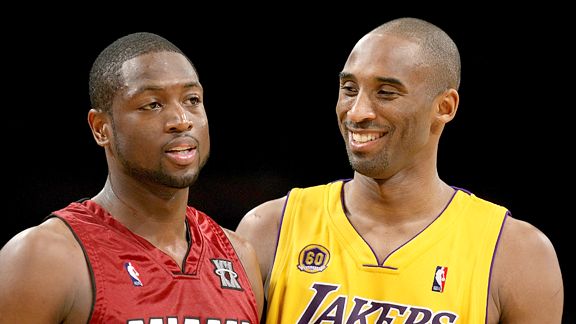 Stephen Dunn/Getty Images
Los Angeles Lakers (46-15) vs Miami Heat (30-31)
8:00 PM ET, March 4, 2010 -- AmericanAirlines Arena, Miami, FL
Kobe Bryant and Dwyane Wade highlight tonight's contest between the Los Angeles Lakers and the Miami Heat. The Lakers have lost four of five against the Heat. Kobe Bryant's last four games have been a struggle, he is shooting just 34.3% from the field and averaging 19.3 points per game. The Heat snapped a four-game losing streak in their last game. Kobe and D-Wade have gone head-to-head 12 times in their careers, Kobe holds a 7-5 edge in wins. Look for Dwyane Wade to see a lot of tough coverage from Ron Artest. Artest has a reputation as the toughest on ball defender in the NBA, and this season he is living up to that hype. Artest allows the fewest points per play as an on-ball defender in the NBA.
Fewest Points Per Play Allowed (minimum of 400 plays)
Ron Artest 0.74
Mehmet Okur 0.75
Taj Gibson 0.77
Carlos Boozer 0.77
Game Preview: Lakers vs Heat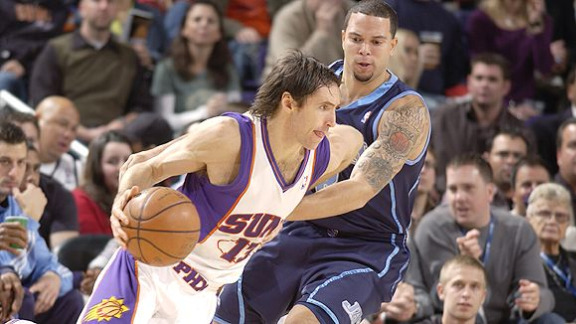 Barry Gossage/NBAE via Getty Images
Utah Jazz (38-22) vs Phoenix Suns (39-24)
10:30 PM ET, March 4, 2010 -- US Airways Center, Phoenix, AZ
Tonight's game is a wild-wild west matchup between the visiting Utah Jazz and the Phoenix Suns. The Suns are 23-7 at home and averaging 111.4 points per game. Steve Nash and Deron Williams are two of the four point guards in the NBA averaging double-figure assists. Williams has double-digit assists in each of his last ten games. Williams can tie his career high in that category against Phoenix tonight. He had 10 or more assists in 11 straight games two times, once in each of the previous two seasons.
Game Preview: Jazz vs Suns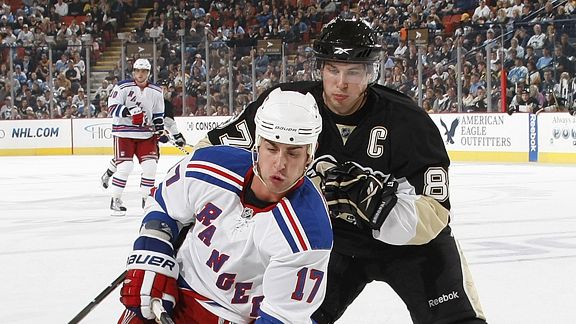 Gregory Shamus/NHLI via Getty Images
Pittsburgh Penguins (37-22-4) vs New York Rangers (29-27-7)
7:00 PM ET, March 4, 2010 -- Madison Square Garden, New York, New York
The Pittsburgh Penguins are one point behind New Jersey, which is off Thursday, for the Atlantic Division lead. Sidney Crosby looks to extend his seven-game point streak against New York as the division rivals conclude their season series tonight. Pittsburgh has had little trouble against the New York Rangers of late, going 7-0-1 in the last eight meetings. With his team struggling to get into the top 8 of the Eastern Conference, more pressure will fall onto Rangers starting goalie, Henrik Lundqvist, which the team may find to be beneficial. Before the Olympic break and in the Rangers win over Ottawa Tuesday night, Lundqvist has been a very important key. Over his past five starts, Lundqvist has a 1.60 GAA.
Game Preview: Penguins vs Rangers