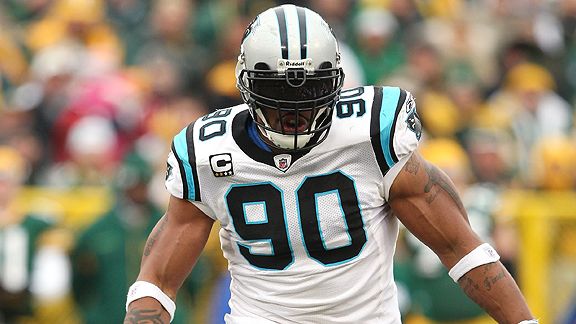 I'M FREE. TO DO WHAT I WANT. ANY OLD TIME.
(At least since the NFL's free agency window opened up just after midnight.) And if I'm Julius Peppers, I'm in Chicago today to visit the Bears. And if I'm Chester Taylor, I'm in Chicago today to visit the Bears. And if I'm Brandon Manumaleuna, I'm in Chicago today to visit the Bears. And if I'm Antrel Rolle, I'm in New York today to visit the Giants but I'm thinking about the Bears. Wait, what? (These things happen when you trade your draft for Jay Cutler.)
More from The Rundown, including free basketball in Arizona, and the first invitation to the Big Dance, after the jump.
FAR AWAY, SO CLOSE
Kobe Bryant was good for 39 for the Lakers in Miami, including a crucial fadeaway jumper with four seconds left. But that was only good enough to force overtime against the Heat. And because Dwyane Wade dished out a season-high 14 assists, the Heat were good enough for a three-point win. Which means that each of the last four games between these two have been decided by three points or less.
Read | SportsCenter Highlight of the Night
MIND IF WE DANCE WITH YO DATES?
Cornell can clinch the first automatic bid to NCAA Tournament with win at Brown on Friday. Either that or a win at Yale Saturday. Either that or a loss by Harvard in one of their two games left. Either that or a loss by Princeton in one of their three games left. You don't have to have a Ivy League degree to figure all that out. (You just have to be smarter than a 5th grader.)
"I encourage any man who thinks he is on the same level or even thinks he can outplay the women from the Mercury to put his skills to the test and tryout for the practice team."
- The WNBA team in Phoenix is looking for a few good men (15 of them, to be exact) to scrimmage against and train with the women. Tryouts are three weeks from tomorrow. All attendees won't get paid, but they will get a boxed lunch and a free T-shirt.
You can get The Rundown for free and not have to break a sweat. And you can get it before breakfast (you still have to pay for your breakfast). And we don't know where you get your breakfast from, but you get The Rundown from here.