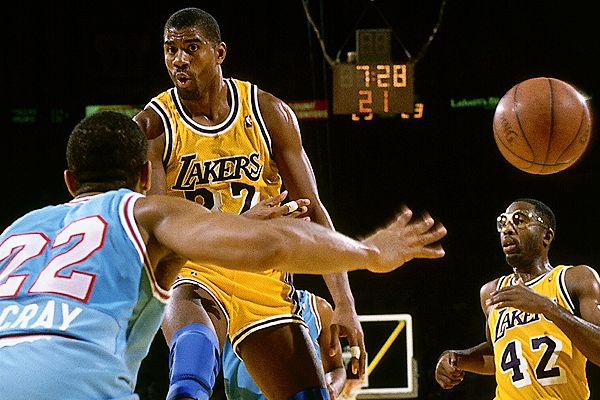 Andrew D. Bernstein/NBAE/Getty Images
James Worthy's four eyes are no match for the eyes in the back of Magic's head.
March 7, 1996: Magic Johnson had long been known as one of the NBA's greatest passers, but on this day he made it a little more official, notching seven assists in a win at Sacramento to become only the second player to reach 10,000 career assists.
Long before LeBron hit the hardwood, fans "oohed" and "aahed" at Johnson's no-look, behind-the-back passes, his on-the-mark alley-oops and his thread-the-defense overhand rockets. In fact, it was Johnson's high assist average (he averaged more than 11 a game for his career) that introduced the term triple-double into the NBA lexicon.
As Johnson's teammate Michael Cooper said on NBA.com, "There have been times when he has thrown passes and I wasn't sure where he was going. Then one of our guys catches the ball and scores, and I run back up the floor convinced that he must've thrown it through somebody."
John Stockton was the first player to reach the 10,000 assist mark, hitting the number in February of 1995. Stockton remains the NBA's all-time assist leader with 15,806 while Jason Kidd (10,766) and Mark Jackson (10,334) passed Johnson for the second and third spots on the all-time career assist list. Johnson, who is fourth all-time, finished his career with 10,141. Those players are the only four to collect more than 10,000 for their careers.