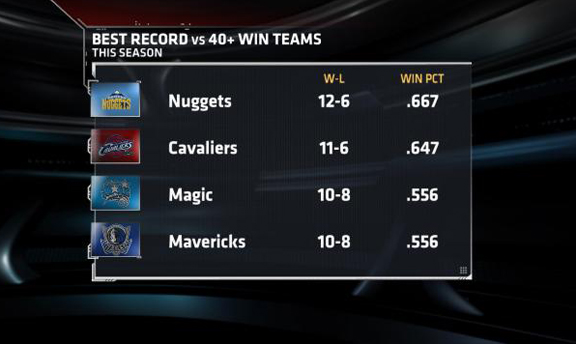 Magic 96, Lakers 94
TOP DOGS: Vince Carter scores 25 points and goes 13-14 from the free-throw line as Orlando wins its 5th straight and gives Los Angeles its 1st 3-game losing streak since Jan. 23-27, 2008. (Their current streak is the team's longest losing streak in the Pau Gasol-Kobe Bryant era.) To be the best, you've got to beat the best. Orlando can consider themselves part of that conversation following its win against the Lakers. The Magic are 10-8 vs 40-win teams this season. Only 2 teams in the NBA this season have better records in such games (Denver Nuggets and Cleveland Cavaliers).
After the jump, more cool numbers about Kobe Byrant, Kevin Durant, the 5th team to claim an NCAA tournament bid, Florida Gators tournament resume, and why Kurt Busch loves the ATL.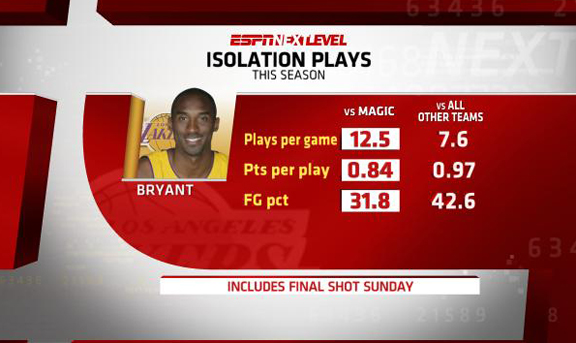 Magic 96, Lakers 94
NEXT LEVEL: Kobe Bryant is one of the best one-on-one players in the NBA, as he either makes a field goal or a free throw on 47.4 percent of his isolation plays, which ranks T-5th in the NBA (minimum 150 plays). Yet, against the Magic this season – due in part to the defense of Matt Barnes – Kobe has struggled to score on isolation plays, including missing the game tying shot on Sunday.
MORE: Game Recap | Box Score | Highlight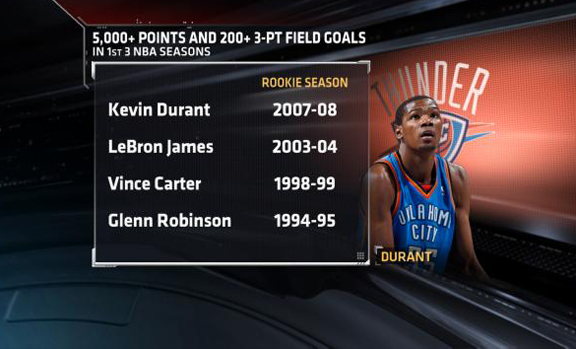 Thunder 108, Kings 102
THUNDER STRUCK: Thunder win for the 14th time in their last 17 games and have now won 5 of their last 6 meetings with the Kings. Kings fall to 15-15 at home this season and have lost 8 of their last 11 games. Kevin Durant led the Thunder with 27 points and has scored 25+ points in 34 of his last 36 games. Durant is just three years into his NBA career, but he's already making a mark on the Association in a way few others have before him. With 20 games left in 2009-10, Durant is already just the fourth NBA player to record at least 5,000 points and 200 three-pointers in his first 3 NBA seasons. LeBron, Vince Carter, and "Big Dog" Glenn Robinson are the others.
MORE: Game Recap | Box Score | Highlight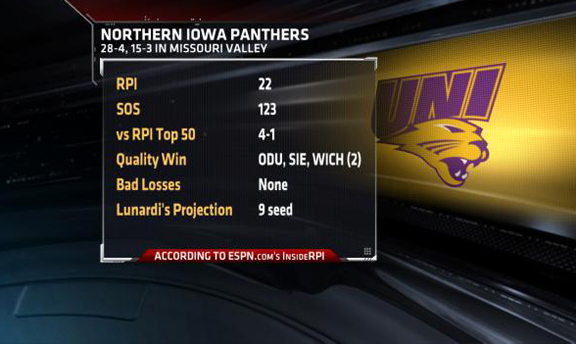 Northern Iowa 67, Wichita State 52 - MVC Championship
WELCOME TO THE DANCE: Northern Iowa becomes the fifth team to punch its ticket to the Big Dance (the other four teams are listed below), winning the MVC tournament for the second straight season. They're the first MVC repeat champions since Creighton in 2002 and 2003 and they're the first to sweep both the regular season and conference championships in consecutive years since Illinois State in 1997 and 1998. This is UNI's third MVC title (last season and 2004) and they've earned their sixth NCAA tournament appearance. Wichita State, in the MVC title game for the first time since 1991, will have to learn its fate on Selection Sunday. The Shockers haven't made the tournament since 2006.
Tickets Punched - 2010 Men's Basketball Championship
School - Conference
Cornell - Ivy
Winthrop - Big South
ETSU - Atlantic Sun
Murray State - Ohio Valley
Northern Iowa - Mississippi Valley
MORE: Game Recap | Box Score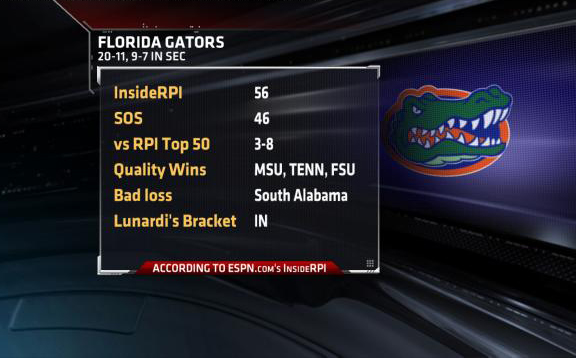 (3) Kentucky 74, Florida 66
Kentucky closes out the regular season with a perfect 18-0 home record, and extends its overall win streak to 8 games. The Wildcats have won four of their last five against Florida. The Gators lose for the 10th time in their last 13 SEC road games. Kentucky had five players in double figures, led by Darius Miller and Eric Bledsoe who each had 14.
MORE: Game Recap | Box Score
Most Points by Freshman - Kentucky History:
'09-10 John Wall - 504
'09-10 DeMarcus Cousins - 485
'86-87 Rex Chapman - 464
'88-89 Chris Mills - 459
'79-80 Sam Bowie - 440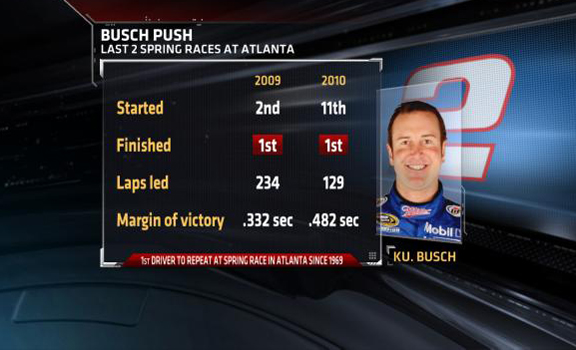 NSCS at Atlanta
THIS IS MY HOUSE: Kurt Busch defends his win at Atlanta, earning his 21st career Sprint Cup Series win overall. It's his 3rd career win at the track, tied for 4th among active drivers. Busch has led 363 laps in the last 2 Spring races at Atlanta. Matt Kenseth finished 2nd, his best career finish at the track. Hendrick teammates Dale Earnhardt Jr.,Mark Martin and Jeff Gordon all qualified in the top 5. However, tire issues plagued the team midway through the race and all finished outside the top 10.
Kurt Busch Most Wins by Track - Sprint Cup Career
Bristol - 5
Atlanta - 3*
New Hampshire - 3
Michigan - 2
Pocono - 2
*Won 2 of last 3 races there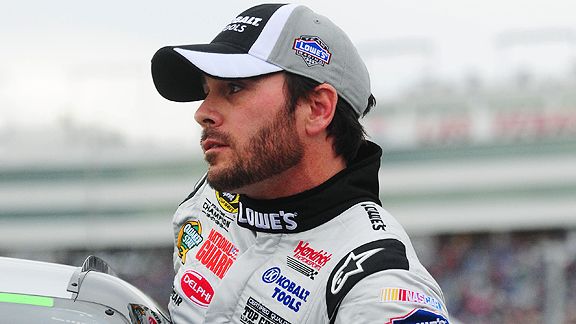 RACE FOR THE CUP: Despite facing tire/wheel issues late in the race, Jimmie Johnson finished 12th and moved up to 4th in the points. Points leader, Kevin Harvick, finished 9th. Harvick, Matt Kenseth and Greg Biffle are the only drivers to finish in the top 10 in all 4 races this season (Biffle finished 8th) - and are the top 3 in the Sprint Cup standings, respectively. Kurt Busch wins for the third time at Atlanta and for the 2nd straight time in the spring race there. The only track Busch has won more at in his Sprint Cup Series is at Bristol.
MORE: NASCAR Standings | Wild finish steals spotlight from Busch | Recap & Highlight
NOTE: The Elias Sports Bureau and ESPN Stats and Information group contributed to this report.