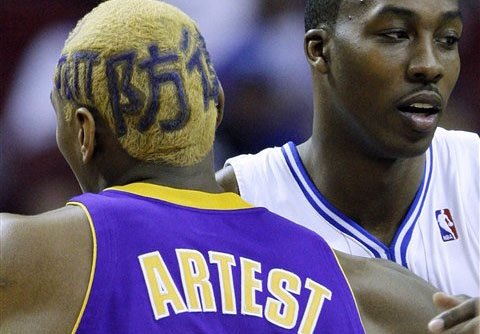 THERE'S MAGIC IN THE HAIR AIR
The first best part of Sunday's NBA matinee in Orlando was when Ron Artest showed up with this painted on (and shaved into) the outside of his head. The next best part was when Matt Barnes tried to get inside the head of Kobe Bryant - to the point of faking a point-blank inbounds pass right into Kobe's face. Kobe didn't even flinch. (Of course he didn't.) Except that Kobe did flinch with the Lakers down by two and just one second left when he bounced a potentially game-tying jumper off the iron. The Lakers dropped their third straight game for the first time since January 27, 2008. And this current skid is their longest skid in the Pau Gasol-Kobe Bryant era.
Read | SportsCenter Highlight of the Night
More from The Rundown, including why they're called the Fighting Irish, and the fightin' words being thrown around on Facebook, after the jump.
THE UN-LUCK OF THE IRISH
With a win tonight, the Connecticut women would raise the bar for longest win streak in women's Division I history to 71. Only problem is, they face Notre Dame. Because in 1957, Notre Dame ended Oklahoma's 47-game run in football. And in 1974, Notre Dame ended UCLA's 88-game run in men's basketball. And in 1994, Notre Dame ended North Carolina's 92-game run in women's soccer. Hey, ladies! (6 ET, ESPNU)
"My options: Considering that Brad wrecks me with no regard for anyones safety or hard work, should I:
A-Keep letting him wreck me?
B-Confront him after the race?
C-Wait til bristol and collect other cars? or
D-Take care of it now?
I want to be clear that I was surprised at his flight and very relieved when he walked away. Every person has to decide what code they want to live by and hopefully this explains mine."
- Carl Edwards on Brad Keselowski on Facebook. Boogity, boogity, boogity.
CHECK YOUR SCORECARDS
1-under is a birdie. 2-under is an eagle. 3-under is an albatross. But I have no idea how to score the particular type of bird that decended upon the Honda Classic yesterday, and tried to make off with a fuzzy microphone.
A little birdie told us that you'd like more of this each morning with your oatmeal. So say, "Yes, please," to The Rundown, and say it here.