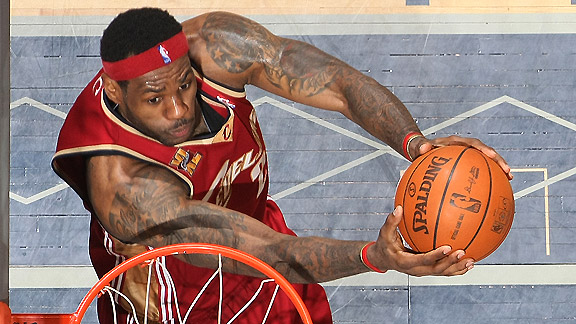 Nathaniel S. Butler/NBAE/Getty Images
LeBron's Aching Body
Cleveland Cavaliers all-star LeBron James did not take part in this morning's shootaround and may sit out tonight's game against the San Antonio Spurs (ankle). Cleveland coach Mike Brown said James will be a game-time decision, but is leaning toward resting the league MVP. "If he fights me hard enough, maybe I'll let him play," said Brown, who sat James on Saturday in Milwaukee. Asked how he was feeling, James, who rolled his ankle on Friday night against Detroit, said, "I'm good." LeBron is also battling a sore back. As for the opposition, the San Antonio Spurs will be without star PG Tony Parker for approximately six weeks because of a fracture in his right hand. Surgery is not required.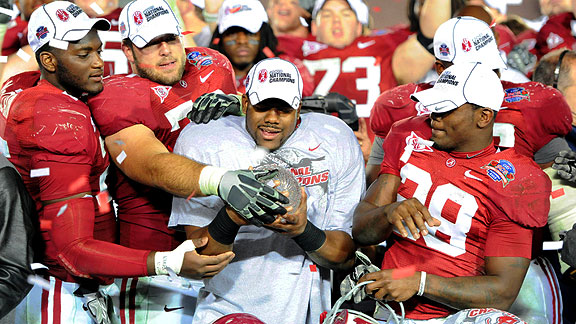 Kirby Lee/US Presswire
Busy Day For The Tide
The national champion Alabama football team's visit to the White House is just one of the many stops for the Crimson Tide today. Coach Nick Saban's team is scheduled to spend time with area youth as part of a service project before meeting with President Obama. The Tide is also scheduled to make stops at the U.S. Capitol, Smithsonian National Air and Space Museum and National Mall during its day in D.C. President Obama called Nick Saban the morning after the Tide's national championship victory over Texas.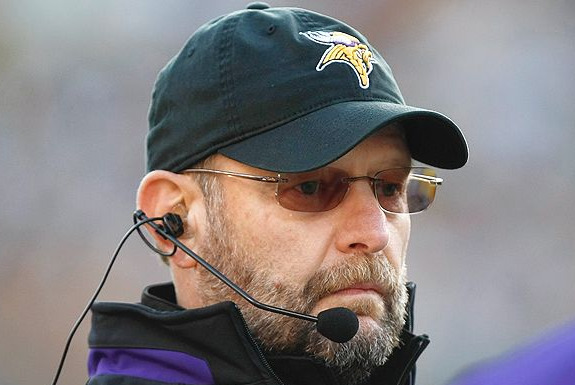 Scott Boehm/Getty Images
Childress As A Witness
A Minnesota judge ruled that Vikings coach Brad Childress can be called as a witness in the labor dispute between two of his players and the NFL. Hennepin County Judge Gary Larson's rule came down Monday as the trial began in a lawsuit against the NFL by Vikings linemen Kevin Williams and Pat Williams. Peter Ginsberg, the players' attorney, is telling the judge that the NFL applied its anti-doping rules inconsistently in punishing the players, tainting their reputations. Both players tested positive for a banned diuretic in 2008 and the league wanted to suspend them for four games. Attorney Peter Ginsberg says Childress will testify that he was one of the few people outside the NFL who knew of the positive test and that he did not tell anyone in the media. The players believe the NFL broke a state confidentiality law in disclosing the tests, something the league denies.
The Associated Press contributed to this report.