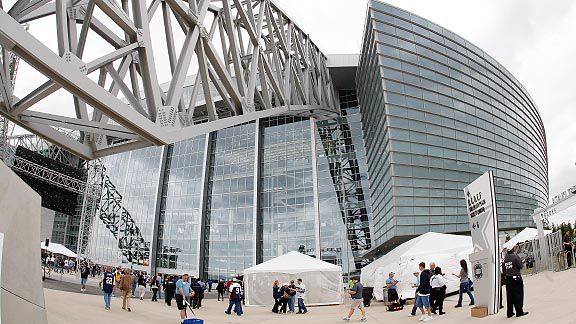 Scott Boehm/Getty Images
Once fully operational, this football station will be able to transform into Jimmy Johnson's hair.
You'd think after last year's splashy roll-out and a $1.15 billion construction bill Cowboys Stadium is more or less a finished product, but apparently The House that Jerry Built is under constant construction. This year the ownership team planned to throw open the Cowboys Hall of Fame and Museum (think Yankee Stadium's Monument Park, only TEXAS SIZED), only to put it on indefinite hiatus. The art museum (yes, you heard that right, Jerry Jones commissioned 14 large-scale installations to class up the joint) is open, though only for private tours. And thanks to whiny fans who complained it was too hard to see crucial game information on the giant center-hung board because it was cluttered with too much video, they're also installing end zone LEDs with things like time and team timeouts remaining for all those killjoys who care about what's going on in the field. Up next: Wi-Fi access points and self-guided tours, the latter of which sounds like a black market memorabilia sale waiting to happen.
For the organization's part, they welcome any and all evolutions of the beloved stadium. "We are never opposed to change," Cowboys executive vice president Charlotte Anderson said. "I don't think we ever like to say that this is the way it is, and it's always going to be this way ... . We are always looking for a new idea."
You asked for some suggestions, madame vice president, here they are:
The Hall of Owner/General Managers featuring The Faces of Jerral Wayne Jones - Relive the exploits of America's GM including his days as a Razorback, prospecting for oil and firing Tom Landry, all through the magic of state-of-the-art animatronic robots. At least, we think they're all robots.
The "BadTony" Romo Punching Bag Room - Take out all your aggressions at the first sign of a losing streak on a BadTony, because sometimes the real Tony doesn't need to hear your verbal abuse to get back on track.
The Roy Williams Doghouse - Leave your pet in the company of other sad-eyed beasts while you go watch Miles Austin.
The Mark Cuban Technology Suite - Enjoy billionaire-class accommodations for experiencing in 3D, 4D or even virtually. Just because it's not Sunday doesn't mean Dallas can't synthesize a little football for you.
The Leon Lett Eternal Clip Reel Memorial - Bask in the career of the man who continues to give as long as there's a cultural desire for sports bloopers.