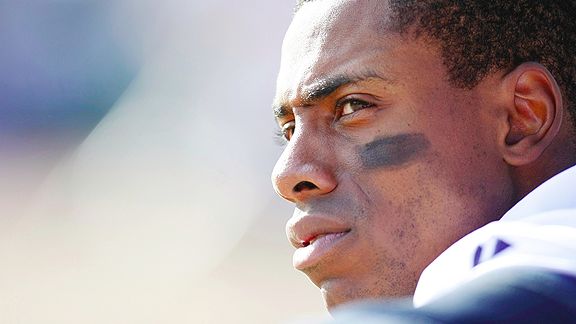 Photo: Gregory Shamus/Getty Images
I betcha I need more eye black for the bright lights of Hollywood...
The Detroit Free Press is reporting that Tigers centerfielder Curtis Granderson will soon be hosting a reality show titled "Stadium Secrets." Grandy will use the series to take fans on a behind-the-scenes journey of various sports stadiums.
We think this is a brilliant idea and we already have a number of questions that need to be answered:
Why do the seats near Pesky's Pole in Fenway Park face the seats in centerfield? Although watching fights in the bleachers is a fun way to spend a Saturday afternoon, isn't the action on the field somewhat important? We suggest the Red Sox consider installing the first swivel-seats in MLB, thereby justifying the annual increase in ticket prices.
Bernie Brewer used to slide into a giant mug of beer in center field at the old Milwaukee County Stadium. Now he drops into the "Kalahari Splash Zone" at Miller Park. We would like to know what other substances the Brewers considered. Was moustache wax on the list?
Minute Maid Park (aka "The Juice Box") in Houston features a 90-foot incline known as Tal's Hill in centerfield and a flagpole in the field of play. Why did the Astros stop there and not complete the miniature golf effect by adding a tiny windmill near second base? Did anyone ever suggest some sort of water hazard?
The Cubs have recently built two signboards in the bleachers of Wrigley Field to block out casino advertising on one of the rooftops across the street. Well, who will be advertising on the new signboards? These things must be handled carefully because one little oversight and you get the Derek Jeter Center in Boston.