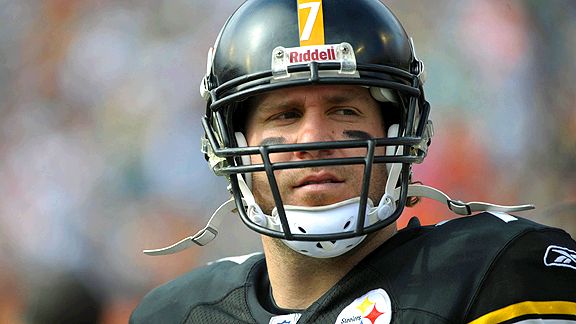 Roethlisberger Investigation Under Way
The investigation into Ben Roethlisberger's alleged sexual assault has begun. Milledgeville police said Monday they will speak to Roethlisberger in the next couple of days along with 8 other people who were present during Friday night's incident.
National Champion Tide Visit President Obama
The Alabama Crimson Tide football team made a trip to Washington, DC to visit President Barack Obama. As is customary for the newly-crowned National Champions, they gave the President a custom jersey and helmet. President Obama played to his Alabama constituents and said, "Roll Tide!"
UConn Women Win 71st Straight Game
The (1)Connecticut women beat (7)Notre Dame 59-44 Monday to break their own consecutive-wins record. The Huskies now trail only John Wooden's UCLA Bruins from the 70's for the longest streak in college basketball history.
LeBron Sits, but Cavs Win Anyway
King James is still nursing a sore right ankle and sat out his second straight game Monday. His team stepped up in his absence, beating the San Antonio Spurs 97-95.
For the 3rd time this season, Kansas holds the No. 1 ranking in the country. A loss to Louisville this week knocked Syracuse from the top spot after just 1 week. Kentucky moves to 2nd with the Orange falling to 3rd.
Nuggets coach George Karl underwent throat surgery Monday as part of his ongoing cancer treatment. He is scheduled to receive chemotherapy on Tuesday as the next step in the process. Despite the treatment, Karl said he will try to make it back to the bench by Friday.
The Philadelphia Eagles picked up the option on Michael Vick, preventing him from becoming a free agent. The Eagles, however, are still looking into their QB situation. They have three QBs on their roster (Donovan McNabb, Kevin Kolb, andVick) who have generated trade interest around the league.
Twins Closer Nathan Receives MRI
Twins All-Star closer Joe Nathan underwent an MRI on his surgically-repaired right elbow. Nathan said he felt some "tightness" in the elbow Saturday against the Red Sox. Results of the test aren't expected until Tuesday.
Beckett, BoSox Talking Contract
After the first round of negotiations, both Josh Beckett and the Red Sox are "optimistic" that a deal will get done. The Sox ace is scheduled to become a free agent after this season if a long-term contract isn't agreed upon.
It was another big day in NFL free agency. With so many players changing teams, or being outright released, it's hard to keep track. That's where we come in...here is a summary of all the day's action.