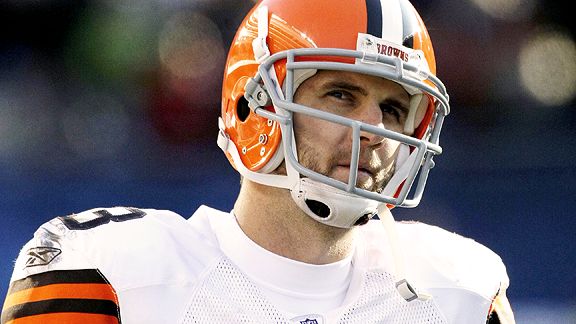 AP Photo/Charles Rex Arbogast
Browns Release Anderson
The Cleveland Browns terminated the contract of QB Derek Anderson Tuesday, opening the door for Brady Quinn to become the QB of the future for the Browns. Anderson was signed by Cleveland off waivers in 2005 and has been with the team ever since. He started 34 games during that time, including all 16 games of the 2007 season when he threw for 3,787 yards and 29 touchdowns.
"I want to thank Derek for everything that he gave to the Cleveland Browns organization over the last five years," said head coach Eric Mangini. "He did everything we asked of him and it was a pleasure to coach such a competitive person. I want to wish him all the best in the future."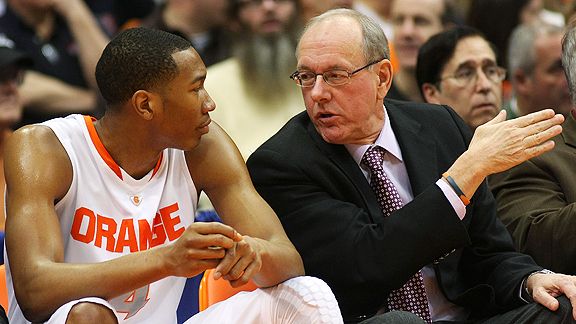 Marc Squire/Getty Images
Boeheim Named Sporting News College Basketball Coach of the Year
Syracuse head coach Jim Boeheim can add another award to his mantle. Boeheim was named Sporting News' Coach of the Year Tuesday, after leading the third-ranked Orange to the regular season Big East title and the No. 1 seed in the Big East Tournament. The accomplishment is even more impressive when you remember that Syracuse lost it's top three leading scorers from last year's team, including Jonny Flynn who was a lottery pick of the Minnesota Timberwolves.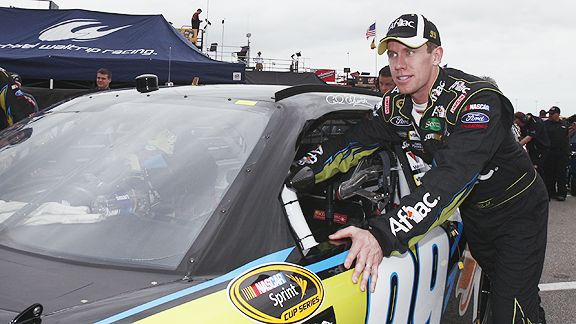 AP Photo/John Bazemore
Edwards on Probation After Causing Wreck
NASCAR driver Carl Edwards has been put on a 3-week probation, but won't be suspended, after causing Brad Keselowski's to wreck last weekend. NASCAR president Mike Helton said the two factors leading to the suspension were that the wreck was intentional and that Keselowski's car went airborne.