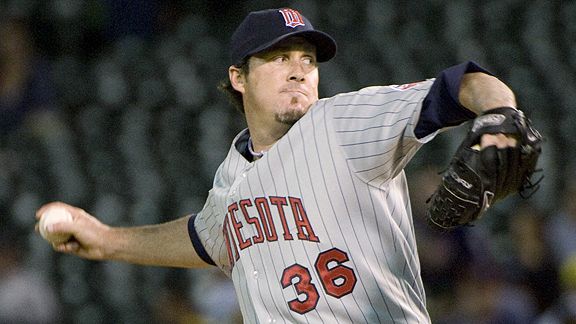 Tim Heitman/US Presswire
Joe Nathan Tears Ligament, Season in Doubt
Twins All-star closer Joe Nathan has a torn Ulner Collateral Ligament in his right elbow which could end his season. An MRI Monday revealed the tear. Nathan will rest the elbow for 2 weeks to see if he can pitch through the injury, but will likely require season-ending surgery.
The Cleveland Browns finally settled on their QB by releasing Derek Anderson Tuesday. Anderson had started 34 games for the Browns including all 16 games in 2007 when he threw for 3,787 yards and 29 TDs. Brady Quinn is now officially the man.
Boeheim Named Coach of the Year
Syracuse head coach Jim Boeheim was named The Sporting News Coach of the year on Tuesday. Boeheim has led his team to a 28-3 record this season and a No. 1 seed in the Big East tournament. The Orange are likely to enter the NCAA Tournament as one of the favorites.
Strasburg Debuts To Rave Reviews
Washington Nationals mega-prospect Stephen Strasburg didn't disappoint in his spring debut. Strasburg struck out two batters (including Tigers all-star Miguel Cabrera) in two shutout innings. He showed off the explosive fastball (clocked near 100 mph) as well as his knee-buckling curve ball that has led to intense hype.
Granger and Frye Suspended for Altercation
Pacers forward Danny Granger and Suns center Channing Frye were both suspended one game for their role in an on-court altercation Saturday. Frye appeared to take a swing at Pacers guard Earl Watson before Granger stepped in. Both Granger and Frye will serve their suspension Friday.
Free agent WR Terrell Owens visited with the Bengals Tuesday night. The Bengals are looking to add a veteran wide receiver to pair with Chad Ochocinco and are reportedly considering Owens, Brandon Marshall, and Antonio Bryant (who also visited Tuesday).
Dunleavy Relieved of GM Duties
Just one month after stepping down as Clippers head coach, Mike Dunleavy is leaving his current post as GM. According to a statement released by the team, "The team has simply not made sufficient progress during Dunleavy's seven-year tenure." The Clippers only made the playoffs one season during his tenure as coach/GM.
Former Jets RB Thomas Jones has landed in Kansas City. The Chiefs confirmed Tuesday that the AFC's 3rd-leading rusher signed a 2-year, $5 million contract. He will likely share the workload with incumbent RB Jamal Charles.
Edwards Get Probation for Wreck
After deliberately wrecking Brad Keselowski on Sunday, NASCAR driver Carl Edwards will only be given 3 weeks of probation. NASCAR decided not to suspend Edwards following the scary crash that caused Keselowski's car to flip into the air.