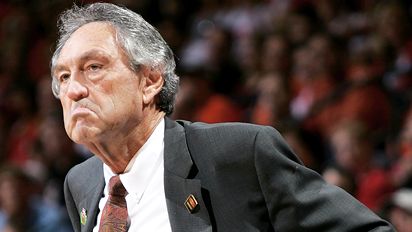 Photo: Ronald Martinez/Getty Images
Why the frown Eddie? Dancing is supposed to be fun!
March 10, 1991 - Eddie Sutton may not be a stockbroker, but he knows a thing or two about diversification. Sutton coached Creighton, Arkansas, Kentucky, Oklahoma State and the University of San Francisco during his 36-year career as a Division I basketball head coach. On February 2, 2008, Sutton became the fifth head coach to garner 800 wins, but on this day 19 years ago, he became the first head coach to take four different schools to the NCAA tournament.
In desperate need of restoration, Oklahoma State hired Sutton in 1990. The Cowboys had made the NCAA Tournament just three times since joining the Big Eight Conference (which dissolved in 1996) in 1957 with their last appearance coming in 1983. The impact was felt immediately as Oklahoma State went 24-8 in Sutton's first season, winning the regular season conference title, punching their first ticket to the Big Dance in eight years and making history for coach Sutton. Under Sutton's tutelage, the Cowboys would advance to tournament's Final Four in both 1995 and 2004. The university showed its appreciation in 2005, naming their court "Eddie Sutton Court."