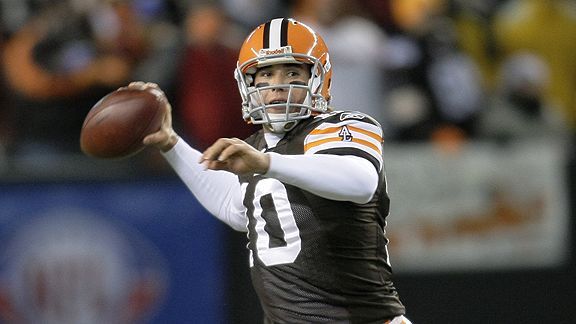 AP Photo/Tony Dejak
Weighing Their Options
The Cleveland Browns released Derek Anderson Tuesday, and Brady Quinn may be next. The team has offered Quinn to other teams, league sources told ESPN NFL Insider Adam Schefter Wednesday. The Browns may also pursue other QB options as well through trade, free agency or the draft, according to multiple league sources. Cleveland already has added former Seattle Seahawks QB Seneca Wallace.
Passing the (Heart) Test
Three doctors have cleared Detroit Pistons PG Rodney Stuckey for exercise after passing his heart evaluation, according to the team. The 23-year-old Stuckey collapsed on the bench during Friday's game at Cleveland and was taken away on a stretcher. He missed Sunday's game against Houston and will be out tonight against Utah. Stuckey missed two games last year after experiencing dizziness during a game. The third-year pro from Seattle is averaging 17 points, five assists and four rebounds for the Pistons.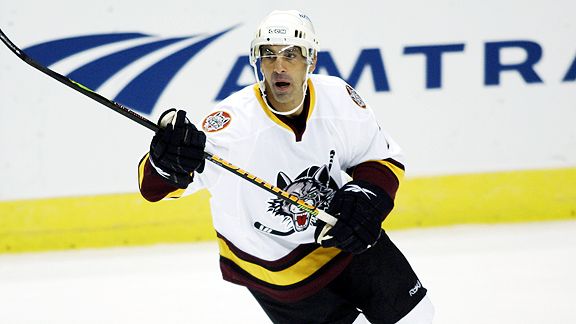 Rob Grabowski/US Presswire
A Familiar Face Returns
Chris Chelios will once again lace up the skates on NHL ice. The 48-year-old defenseman has been called up by the Atlanta Thrashers, GM Don Waddell told ESPN.com Wednesday. Chelios had 22 points (5-17) in 46 games with the AHL's Chicago Wolves this season. He signed an NHL deal with the Thrashers March 2. The Wolves are Atlanta's primary AHL affiliate. Chelios will be back in the league for the first time since last May 27 when he was with the Detroit Red Wings against the Chicago Blackhawks in the Western Conference finals.
The Associated Press contributed to this report.