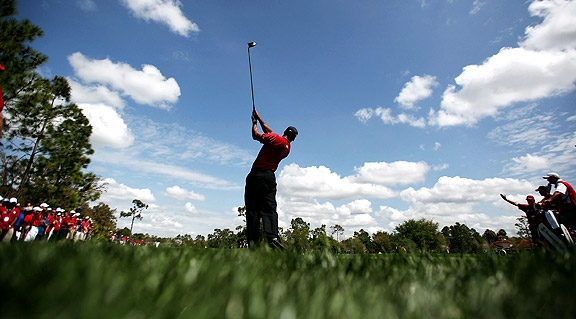 Tiger Woods tees off on the second hole at the Tavistock Cup at Lake Nona Golf & Country Club in Orlando, Fl. last year.
O'MEARA: "WOULDN'T BE SURPRISED" TO SEE TIGER PLAY WITHIN TWO WEEKS
Mark O'Meara is a close friend of Tiger Woods. And he's also the captain of Team Isleworth in the Tavistock Cup, which tees off against Team Lake Nona on March 22nd. It's a two-day event that is not sanctioned by the PGA Tour, yet usually draws many of the world's best golfers, including Tiger, who lives in the Isleworth community. O'Meara says that while he hasn't spoken recently with the world No. 1, they have exchanged text messages. And O'Meara tells The Golf Channel that this competition "might be the right spot or the right fit for him to come back. I wouldn't be surprised." The Tavistock Cup is not open to the public, but it will be televised on The Golf Channel.
More of what's happening At This Hour, including a coaching change in the Big East, and the former NBA All-Star who is back in jail, after the jump.
REPORT: ROBERTS DONE AT ST. JOHN'S
When St. John's was bounced from the Big East tournament by Marquette, it may have marked the end Norm Roberts' time in charge of the Red Storm. The New York Post is reporting that Roberts will not be back for a seventh season as coach. "We're paid to win games," said Roberts. "But we're also paid for the process of running a program that St. John's can be proud of and nobody can say we haven't done that." The Post also reports that former St. John's star and current ESPN analyst Mark Jackson is interested in the job.
ROBERTSON BACK IN JAIL
Former NBA All-Star Alvin Robertson has returned to jail in San Antonio after a judge doubled his bail to $450,000. He's facing charges of sexual assault of a child and sex trafficking, after being implicated in a ring that kidnapped a 14-year-old girl. His lawyer claims the bond change was unusual since his client has not been charged with a new crime.