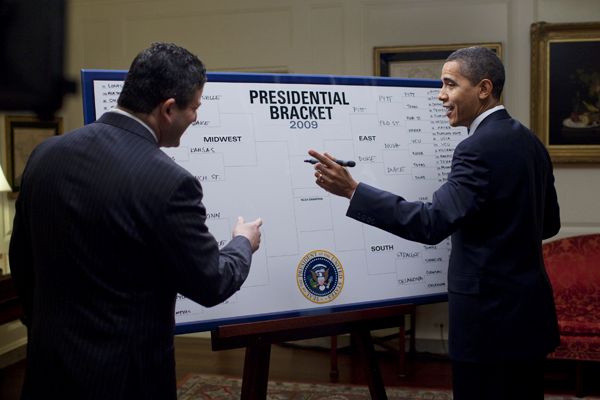 Pete Souza
Andy Katz has perfected the "Presidential Method." What will be your path to victory?
Now that the 2010 NCAA Tournament bracket has been released, lets start turning our attention to your office bracket pool - strictly for fun, of course. The way the top ranking has bounced around like a hot potato leads us to think that this March Madness has the potential of going down as one of the most unpredictable NCAA tournaments in recent memory. That's exactly why you shouldn't rely on your run-of-the-mill freshman-level methodology this time around.
Sport Science has conducted several experiments and crunched plenty of data to narrow down those nine quintillion permutations of your bracket projections, from using live chickens (30% success rate!) to having 100 volunteers fill out blank brackets. The results may surprise you, such as their control group posting a 75% accuracy rate for the 2007 tournament without knowledge of the actual teams.
Math and science may be useful starting points, but a true bracket champion knows the art of the pick relies just as much on intuition as anything else. Just a fair warning: the following techniques may not be suitable for your coworkers or your roommate, unless they're into awesome things:
Cat Person Method: Sports Science concluded that teams with mammal mascots have won more titles than those with reptiles, humans, and fruit put together. Mr. Whiskers says it's the Year of the Tiger, so feel free to take this trend even further. Automatically promote teams with feline nicknames to the next round and make sure endangered species take order of precedence in case of a tiebreaker, such as Tigers over Cougars. You may already be familiar with this strategy as "The Clemson Method."
Rebellious Teen Method: If applicable, call up your stepfather and ask him for his picks. Them fill out your bracket the exact opposite of what he tells you, ring him back, yell "You're not my Dad!," and hang up. That'll show him. That'll show everybody.
Get Off the Island Method: The producers of "LOST" have embedded their picks into the convoluted plot throughout the last two episodes of this season. They've known how everything will turn out long before this Big Dance even begins. Here's a freebie: the Smoke Monster symbolizes Temple through the first three rounds but morphs into Villanova once the Elite Eight starts. We know it doesn't make sense right now but it totally will when the tournament is finished. There's an explanation for all of it. We promise.
Overbearing Soccer Parent Method: This approach requires doting parents to dress their children in branded athletic apparel from mommy's and daddy's alma mater. Then, the rugrats can be corralled and "encouraged" to race. The winner of each round naturally moves on - think of it as survival of the fittest future alumni.
Old Yearbook Method: Climb up to your attic (or descend into your basement) to retrieve the dusty remains of your high school yearbook. Then, cross-reference each student with the college that they attended. Now, match the students/colleges with your bracket and advance each team based on a popularity contest of the corresponding teenager match-up. One note: just because the kid who always got wet-willies went to Duke, that doesn't mean that his team is going to lose in the first round.