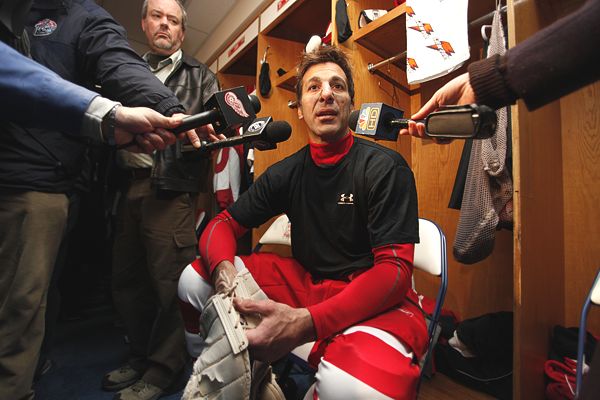 Ross Dettman for ESPN.com
"I don't know where Tony Danza gets his nails done. That's a question you'll have to ask him."
Chris Chelios made his NHL season debut for the Thrashers Thursday night. Which was big new because Chelios is 48 years old. And he's now in his 26th season in the NHL. His 26th season! That's insane. And it ties him with Gordie Howe for the most-ever seasons in the NHL.
It kind of goes without saying that Chelios is the oldest player in the league. In fact, he has been for the past five seasons. But what gives Cheli such remarkable staying power? We had to know. So we took to the internets to find out. And we came back with a little theory that might just blow your hockey sweater off.
It's the Malibu Mob. Apparently, Chelios is the Godfather of the Mob, which is simply a group of cosmopolitan elite who live in Malibu over the summer and just, like, bum around together. (Note: to them, "bumming around" includes taking batting practice at Comerica Park and hanging out in NHL luxury boxes. To each his own.)
Members include Chelios, of course, as well as John McEnroe, John Cusack, John C. McGinley (of "Office Space" and "Scrubs" fame), D.B. Sweeney (of "The Cutting Edge" fame), Kid Rock (of "Kid Rock" fame) and Tony Danza (naturally).
Well, it's quite obvious what's been happening. Chelios is harnessing the powers of his fellow Mob members. Remember Captain Planet? And how his Planeteers could summon a being that was an amalgamation of all their powers combined? Hello! Chelios = Captain Planet. Mob members = Planeteers! Only Cheli's minions have powers like disarming smiles and really low body fat percentages.
So what's Chelios gleaning from all his friends? Well, from McEnroe it's clearly his amazing ability to entertain. (Admit it, you thought we were going to say "fiery temper," didn't you? We're tricky like that). Johnny Mac – who's not only a wiz with a tennis racket but is pretty slammin' on the guitar, too – has to be the one sending Chelios those performer vibes.
And from Kid Rock? Well, who needs ice baths and sports massages when you have Robert James Ritchie's uncanny ability to recover from a rough night? Really, anyone who abuses his body the way we assume Kid Rock has over the years (may we remind you of the Waffle House incident) and is still standing has to have some sort of supernatural ability. With Kid Rock's help, on the morning after a tough game, the 48-year-old Chelios must feel like he's not a day over 45!
D.B. Sweeney's contribution is most certainly the ability to take a slap shot to the nose (see 1:52 in "The Cutting Edge" trailer for proof) and hardly look worse for the wear. Meanwhile, Tony Danza – one man who is NOT ashamed to shout his love of manicures from the rooftops – is definitely the one responsible for Chelios' amazing capability to maintain those "soft hands" of his throughout the years.
Of course, every professional athlete has those days when he really feels his age. Like he has nothing left in the tank. And all Kid Rock's powers of recovery and Johnny Mac's pep and Sweeney's strong nose just aren't cutting it. A normal athlete might succumb to this. But Chelios only has to summon John Cusack's power to hot tub time travel and suddenly Cheli's playing with the verve of a spry 37-year-old! It's like magic. Because it is.
But Chelios isn't all about hockey. He owns two restaurants – Cheli's Chili Bar I and II – and he's involved in charity work, so a good business sense us a must. Good thing John C. McGinley – or Bob from "Office Space" as the case may be – is around to transfer his friend Cheli some solid business practices mojo. Also, ever wonder how Chelios can play pro hockey for 26 years and never get a case of the Mondays? Well, wonder no more.
With supporters like these, we'll be shocked if we don't see Chelios around for a while longer. After all, Cheli may be the oldest guy in the NHL five years running, but Maple Leafs goalie Johnny Bower held that distinction for 10 years (1960-70). So stay close, Mob. Chelios needs you.